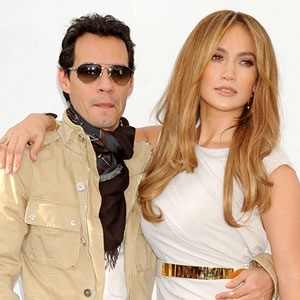 Jeffrey Mayer/WireImage.com
We've heard Jennifer Lopez's side of the story, but hadn't heard what her soon-to-be ex-husband Marc Anthony has to say about their recent decision to divorce.
Until now.
ABC News' John Quinones sat down for an exclusive interview with the Spanish singer to discuss what happen that led to their marriage falling apart.
Here's what he had to say...
"I'll tell you that it wasn't something sensationalistic happening," Anthony said.
He also shot down any rumors that stated the pair's seven-year relationship ended with each of them getting involved in separate affairs, saying that is "absolutely not" the case and that their union simply no longer "worked."
"It was a realization on both our parts. So, you know, it wasn't shocking. These things happen," he said. "It was a decision that we made jointly."
Anthony has been trying to redirect his focus on his Kohl's clothing line and filming his reality show Q'Viva! The Chosen, alongside Lopez. If that doesn't work, the Grammy winner jumps on his motorcycle and rides to his Long Island home for some peace of mind.
"This is not a funeral. This is not a burial," Anthony said of his divorce. "This is just two people who came together and just realized—and so I'm saying that it wasn't sustainable the way it was, and that's that."
The exclusive ABC interview will be partly aired tomorrow during Good Morning America and then continued on Nightline.