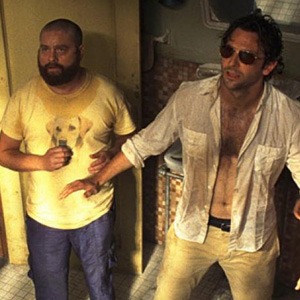 Warner Bros.
A stuntman left with severe brain injuries after a stunt-gone-wrong during the production of The Hangover Part II last December is suing distributor Warner Bros. for negligence and failing to ensure his safety.
So just what happened?
Per the lawsuit filed in California on Tuesday, a copy of which was obtained by the Hollywood Reporter, plaintiff Scott McLean had been serving as a stunt double during a high-speed car chase through the streets of Bangkok when the truck he was riding in was hit by another vehicle during second-unit filming.
McLean was taken to a local hospital where he slipped into a brief coma. Not long after the mishap, he was airlifted to a hospital in Australia where he is said to be receiving further treatment and recovering in a rehab facility.
But according to the complaint, the Dec. 17 smashup left him with "likely permanent brain and physical injuries," including ongoing seizures, speech impediments, physical impediments and brain trauma.
McLean's suit specifically singled out the movie's stunt coordinator, Russell Solberg, claiming that the sequence they were shooting required "precision and timing" and Solberg committed negligence when he altered that.
"Solberg commanded to the driver of the automobile in which plaintiff Scott McLean was a passenger, that the speed of his vehicle be increased significantly to a speed unsafe for the stunt, thus resulting in a major collision," state court docs.
McLean's partner, Raelene Chapman, is also named as a plaintiff in the legal action that states she's had to quit work to tend to the stuntman as he continues his recovery.
The duo are seeking unspecified damages against Warner, Solberg and various other members of the production team for failing to adhere to Thailand safety laws in executing the ill-fated stunt.
The studio released a statement indicating it was doing the best it can to provide for McLean.
"We were shocked and saddened by this accident and have been working closely with Scott and his family throughout his treatment and recovery," said Warner Bros. " We have offered continual support since the accident occurred and we are working together to try and resolve any outstanding issues."