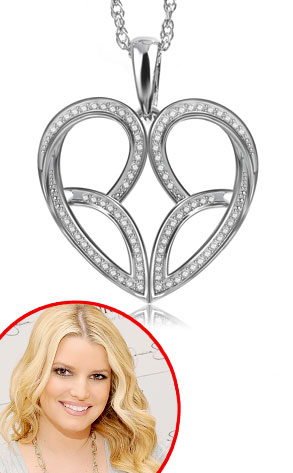 Courtesy Photo; Jamie McCarthy/WireImage
Jessica Simpson's pop music career may be dormant, but the bubbly blonde's singing a new tune these days: "Ice, ice, baby."
The celeb fashion mogul—who's been raking in megabucks with her 22 (yep, you read that right) different product lines—is branching out into fine jewelry.
So what's the name of Jess' collection? (Hint: It's not exactly original.)
It's called Diamonds Are a Girl's Best Friend.
The 31-year-old star collaborated with Zales on the collection that's launching in October, according to Women's Wear Daily.
Jessica's line of bling will include pendants, earrings, bracelets and rings made of silver, gold and/or diamonds. (Guess that means there won't be any replicas of her ruby engagement ring, huh?)
"This collection has allowed me to create pieces that truly reflect who I am, and that can become a keepsake for lifetime," the engaged star told WWD. "The designs are airy and artistic and so easy to wear."
And at $79-$999, it's relatively accessible for Jess' fans, too.
Are you excited to see her new jewelry collection? Weigh in below!