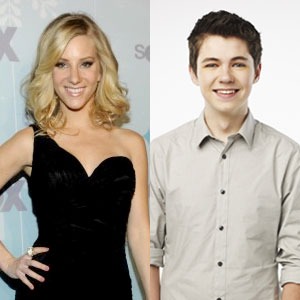 Mark Davis/FOX; Andrew Eccles/Oxygen Media
"Every musical blonde in the world is coming out of the woodwork for it!"
This is what a rock-solid Glee source tells me about the latest guest-starring role they are currently casting.
So who is it? And when will Glee Project winners Damian McGinty and Samuel Larsen join the show, and what will they be playing? Get ready for an explosion of Glee "spoilerocity," 'cause sources just told me exclusively:
1. Damian Is Coming! Damian will be the first winner to appear on the Glee mothership. He plays an exchange student named Rory, and will show up in episode four. He will be staying with...wait for it...Brittany's (Heather Morris) family! I'm told Santana is decidedly not pleased about this. Think of all the jokes that will come from Brittany not being able to understand his accent.
2. They Are Currently Casting Brittany's Mother! What kind of woman has spawned the awesomeness (and cluelessness) that is Brittany S. Pierce? We will find out this season! Naturally, with Damian shacking up with the Pierces, we'll be seeing Brittany's home life. And given that Brittany probably has no clue where Northern Ireland is, nor what foreign language Damian is speaking, you can expect some serious comedic gold to come from this storyline. 
3. Samuel Also Is Coming—But Later! Samuel Larsen, the other Project winner, will probably make his debut at the end of the fall semester...somewhere around episode nine from what I hear. Part of the reason for this delay is that producers want to focus more on the regulars' stories this year. There are no guest stars in the first nine episodes—just lots of focus on the characters you already know and love. Hooray!
Anybody else deeply excited about where Glee seems to be heading this season?