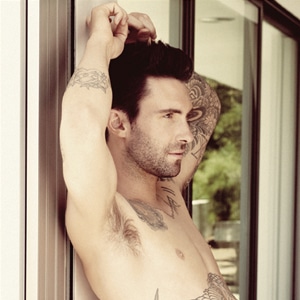 Yu Tsai/OUT magazine
Adam Levine has never been one to hold back.
Whether he's modeling in the buff, blasting American Idol or slamming MTV, The Voice pro is comfortable speaking his mind.
And today he talked to E! News about his ongoing beef with MTV and a whole lot more...
Before the MTV VMAs aired on Sunday, the Maroon 5 frontman took to Twitter to diss the network for what he sees as a lack of commitment to music. He wrote, "F--k you, VMAs."
Levine tells E! News that most of his fellow musicians think the same, "They just don't say it.
"It's public knowledge that it's not a music channel," he said, adding that there are some upsides, just not enough. "It's become a huge promotional opportunity for artists, which is a good thing. I think that great artists were there and they were represented and there could have been more."
Levine says that as a kid he "worshipped" the yearly show and just doesn't have the same feeling about what it has morphed into.
"I remember when I was a kid I worshipped the VMAs," he said. "I'd see these incredible moments where the whole world sat still to watch the VMAs and year 'round they'd play music—Nirvana, Pearl Jam, bands I loved. There were a lot of memorable moments and not only that, it was music television. It was a celebratory day that represented what the channel stood for," he said. "It's sad. It's like seeing Tower Records in L.A. as a clothing store. I was just fed up with the whole thing. It is what it is. It was a very off-the-cuff statement that I definitely stood by."
Was his band invited this year?
"I don't even know if we were invited," he told us. "I know we weren't invited to perform. People thought it's because we weren't nominated, that has nothing to do with it. We haven't been nominated in years and that's fine."
Levine also told us he's been speaking to his buddy and fellow musician Gavin DeGraw and continues to check in on him regularly. DeGraw had been forced to scrap shows as the opening act for Maroon 5 earlier this month after he was beaten up on a New York City street and then hit by a cab, landing in the hospital.
"We're happy he's OK and he looks great and sounds great and he's made such a great 100 percent recovery," Levine said.
And while the "Misery" singer may be mad at MTV, he certainly has his heart in the right place when it comes to the rest of the planet.
His band, along with Snapple, just donated $250,000 to Feeding America, a hunger relief charity that feeds people in need across the country. The rockers even donned goggles and lab coats (which are being auctioned off for the charity here www.ebay.com/snappleauction) and got busy creating their own Snapple flavor for the charity called "Tea Will be Loved."
"It was fun , it was really cool," Levine said of the experience. "Some flavors we made tasted like s--t, some tasted amazing. The whole thing was a fun, charitable idea."
The flavor, on shelves tomorrow, is already getting some attention. All the proceeds from the tea will support Feeding America.
We're guessing it's not called M-Tea-V.