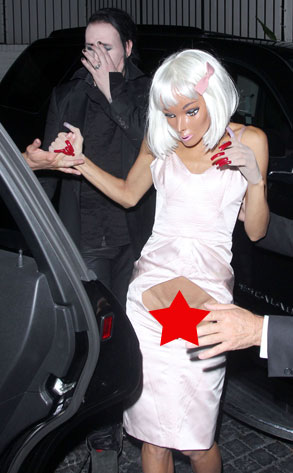 Fame Pictures
Marilyn Manson got himself quite the doll.
The shock rocker famous for creeping people out with his looks, music and cult murderer-inspired stage name upped his weirdness quotient by stepping out with...Barbie.
A real one.
Days after his encounter with Shia LaBeouf, Manson was photographed outside of Chateau Marmont Sunday night with after a screening of Born Villian, a film Manson starred in that was directed by none other than...LaBeouf.
So who was his date?!
Well, some reports say it's British model China Chow, while others claim it's an artist from New York who goes by the name of Narcissister. Frankly, the latter seems more believable.

Either way, this mystery lady stole the show by wearing a very non-Barbie ensemble for her date with the anti-Ken. She donned a rubber mask (which included a platinum blonde bob, of course), fake hands with bright red fingernails attached and a pink dress with a very special cutout section in the crotch region that revealed a merkin, aka a fake pubic patch.
What a catch!
Manson, who was previously linked to Evan Rachel Wood, may have found a real doll bizarre enough to steal the paparazzi's attention away from him—and, if she's anything like the real Barbie, she won't talk back is a great listener.
Who knows? If they keep this up, these two might start looking for their very own dream house.