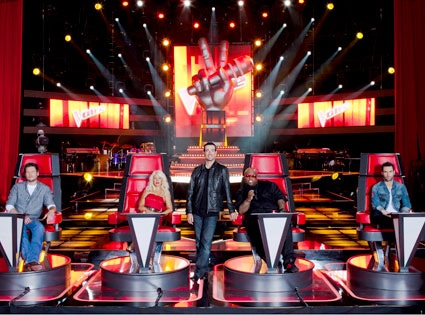 Chris Haston/NBC
Blake Shelton? Christina Aguilera? Cee Lo Green? Or Adam Levine?
Sources confirm to us exclusively that one of the celebrity coaches from this summer's blockbuster reality hit The Voice has been cast on NBC's addictive drama Parenthood.
So who is it? And what's the role?
Cee Lo Green. Playing...wait for it...Cee Lo Green. How's that for a perfect match!
According to sources, the deal is this close to being finalized, and the "Forget You" star is set to appear in one episode, recording at a new studio now owned by Adam (Peter Krause) and Crosby (Dax Shepard). The brothers are buying an old recording space from the '60s-'70s that was beloved by Jerry Garcia and the San Francisco-Berkeley music scene, and it will be a permanent set piece for Parenthood this season, so don't be surprised if more recording-artist guest stars come on board.
Christina, Blake, Adam...Here's looking at you.
Parenthood is the first NBC premiere out of the gate for the new season on Sept. 13. If you haven't been watching this show, get on board. It's crazy good.