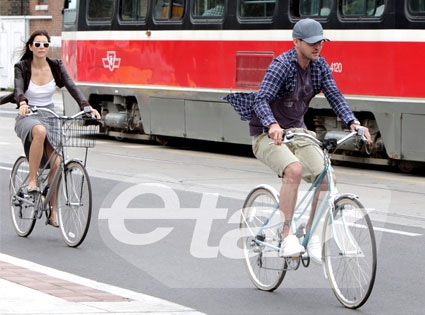 Sean O'Neill for etalk
Forget the tour-de-France! The tour-de-tabloids seems to be the hottest bike race of the year.
Because A-list celebs seem to be realizing that an afternoon of peddling with your beau is the best way to shake off breakup rumors. Or to rekindle a relaysh, as is the case with Justin Timberlake and his ex-girlfriend Jessica Biel.
So what's the deal with these peddling exes?
The twosome were snapped taking an afternoon bike ride in Toronto yesterday after eating brunch together. J.T. was up in the Great White North to visit his on-again, off-again (and then on-again and then off-again) GF on the set of her latest flick, Total Recall.
But according to those who know Justin and Jessica well, they are "just fine" and this ride means is "nothing official."
We beg to differ.
It's all very Blake Lively and Leonardo DiCaprio hitting the NYC streets to show their still very much together, dontcha think? And we're about as thrilled about Timberbiel's biking trek as we were about DiLively's.
Which is to say, not very.
We just think it's time these two move on from each other, that's all. (Like they're gonna listen to us.)
This isn't the first time the former flames have reunited since their split, tho.
But could it be that after Justin was linked to nearly every chick in T-town (from Ashley Olsen to Olivia Wilde and a dozen more) and Jessica seemed to have a brief whatever with Gerard Butler, the two are ready to return to their one-time long term relationship?