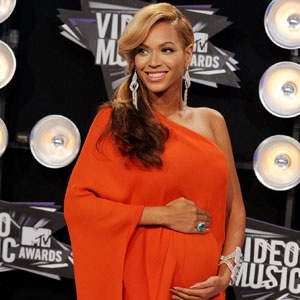 Steve Granitz/WireImage
Oh, baby! That's one way to steal the show, Beyoncé!
All eyes were on the singer on the MTV VMAs red carpet on Sunday night thanks to her brand-new accessory: A baby bump!
That's right, Beyoncé and hubby Jay-Z are expecting their first child!
On the carpet, Beyoncé looked at the photographers while holding her belly and said she had a surprise. Judging from the photo you can tell what that surprise is.
MTV confirmed the baby news on Twitter, saying, "OMG Beyonce just made a huge announcement on the #vma carpet! #baby!!!!" The singer's rep also confirmed the news, saying, "I'm happy to say it's true."
Before performing "Love on Top," Beyoncé told the audience, "I want you to feel the love that's growing inside of me." All together now: Aw! The cuteness doesn't end there. After her performance, Beyoncé unbuttoned her jacket to proudly show off her baby bump, which she rubbed while laughing. Daddy-to-be Jay-Z looked on gleefully from the audience while being congratulated by Kanye West.
Beyoncé's little sis Solange tweeted her thoughts on the baby news: ":)))))))))))))))))))))))))))))))))))))))))))))))))))))))))))))))))))))))))))
))...... !!!!!!!!!!!!!!!!!!!!!!!!!!!!!!!!!!!!!!!!!!!!!!!!!!!!!!" Yeah, we think she's happy.
Bey and Jay-Z tied the knot in April 2008.