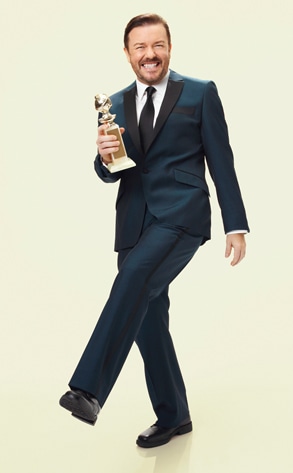 Virginia Sherwood/NBC
File this one under things we didn't see coming.
Not even a year after Ricky Gervais riled up more than a few celebs with his controversial Golden Globes stint, the funnyman is claiming NBC asked him to host the awards show again.
So, is Gervais really back in the running to host the Globes…or is the comedian just pulling our leg?
This one is…
So true!
Gervais reveals to E! News he has been asked by NBC to consider hosting the show for the third time...and he wasn't joking. 
"NBC have indeed asked me to consider doing it again," Gervais said in a statement. "However I think the Hollywood Foreign Press would need an awful lot of persuading. I would love to work with NBC again as they have been nothing but supportive and honorable but I'm not sure a third hosting would be as much fun as the second. Never say never though."
An "awful lot of persuading" on the part of the Hollywood Foreign Press Association might be an understatement.
Shortly after he bashed the likes of Johnny Depp and Angelina Jolie (among many others) at this past year's Golden Globe Awards, Gervais stirred up the rumor mill with claims that the organizers of the show had already asked him to come back again.
The still miffed HFPA, however, said Gervais's story was totally false.
"There is no truth to this rumor,"  the group's President, Philip Berk told E! News in February. "We have not asked him to come back. Nice try, Ricky."
While we're not exactly sure if the HFPA is ready to get on board with a third go round of Gervais' celeb snubbing just yet (or ever), we want to know…do you want to see Gervais host the show again?  
-Reporting by Holly Passalaqua