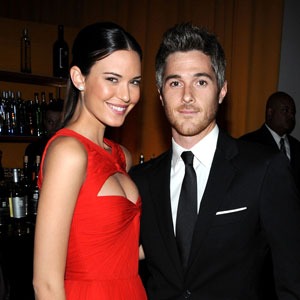 Michael Kovac/WireImage
Alert: A crazy charismatic and attractive child might be headed for this world.
TV faves Dave and Odette Annable aren't starting a family just yet, but they told us they plan to do so in the "near future."
"How much wine are you giving her tonight?" Dave Annable cracked when we met up with the newlyweds last night.
Odette is busy with her new role on House and the news that the show many believed to be dead, Breaking In, will be coming back to Fox.
So how will she be doing both shows? What is she doing on House? And why was Gilles Marini threatening to kick Dave's ass?
Odette tells us she's shooting House now, and Breaking In will start up a little further down the road. So yes, she will be doing both shows.
"I can't share too much information," she tells us of House, "but I am going to be a new doctor on the team and I meet House [Hugh Laurie] at the prison. I'm a prison doctor and then I get recruited at some point in the season...I'm currently shooting that now. It's been such a dream and everybody is so wonderful there. I had a very warm welcoming so it's been great so far."
Dave's old Brothers & Sisters costar Gilles also attended the American Cancer Society dinner, which just so happened to be held on Dave's birthday.
"You know what we do in my martial arts?" Gilles says. "Whenever it's your birthday, we beat you up. And I'm going to have to find a way here to beat him up!"
Hey, as long as you're both shirtless.
Gilles also has a new show idea he wants to pitch: "Dave is one of the funniest men you could ever meet...A sitcom, with Dave and Matthew Rhys (Brothers & Sisters) would be the proper idea. I would just come on as a guest star because I don't have that talent to be so funny. But Dave and Matthew Rhys together would be like a 10-year-long TV show that people would remember forever."
Network honchos, make it so!
As for that whole "starting a family" thing, Dave cracks, "We just had a friend come over with a 1½-year-old. So that pushed our timeline back just a little bit."
"Just a little," Odette laughed, adding, "We definitely—those are our plans [to have a baby] but we're enjoying being married right now. That's the most important thing, we're traveling a little bit, we're working...Not quite yet but in the near future. "
Also there at the dinner last night: the girl rumored to be George Clooney's new squeeze, Stacy Keibler.
—Reporting by Dan Wally