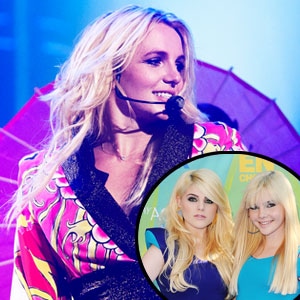 Roderick Trestrial; Jason Merritt/Getty Images
When Britney Spears announced that Nicki Minaj would be opening for her on the Femme Fatale tour, we definitely knew who Ms. Minaj was.
The same could be said when we heard Pauly D had signed on as the tour's official DJ.
But when Brit announced that Destinee & Paris would open for her during the last few stops of the tour, we'll admit, we didn't know much about them. But no biggie, because we recently met the teen sister group and we are now officially smitten...

Destinee, 17, and Paris, 15, who grew up in New Jersey, first began attracting some major attention when they provided backup vocals and harmonies for contestants on season 10 of American Idol.
And it was just last night that they finished up their six-night gig opening for Ms. Spears. "It blows our mind," Paris said. "We've always looked up to Britney."
"When Britney first came out, that was our first concert together," Destinee said. "We have always loved her. She inspired us to do what we do."
And what they're doing now is releasing new music. Their debut single, a pop dance number called "True Love," dropped on Tuesday with a music video for the tune set to debut on Monday.