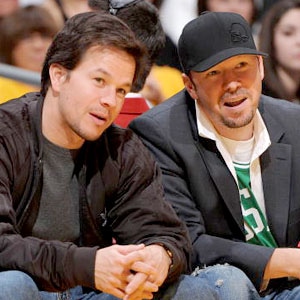 Andrew D. Bernstein/Getty Images
They're the guys who own this establishment. You must be the other guy.
Of all the business ideas Donnie and Mark Wahlberg have bandied about, this has to be the most inspired: The famed brothers have licensed the name Wahlburger from Rochester, N.Y.-based fast food chain Tom Wahl's to open their own burger joint in their hometown of Boston.
We can imagine the menu already: Anyone for The Right Stuff patty melt?  How about a Sixth Sense salad? Or maybe a Marky Mark milkshake?
Per the Boston Herald, the New Kids on the Block singer and The Departed star, along with other brother and chef Paul Wahlberg, heard that Tom Wahl's had sold a product named the "Wahlburger."
As it happened, the siblings, who already owned a bunch of eateries, were on the lookout to start a new venture. So they decided to plunk down an undisclosed amount to acquire the rights to the Wahlburger name for a brand-new 80-seat, 4,300-square-foot restaurant set to launch in the coming months in the Hingham Shipyard.
Having just acquired a liquor license, Wahlburgers will also serve alcohol and has an outdoor patio area too.
Talk about a Happening place.
The Wahlbergs also plan to open a pizza joint as well.