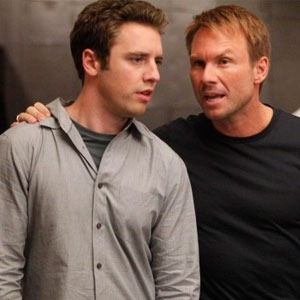 FOX
UPDATE: It's official! Fox announced Thursday that Breaking In will be getting 13 episode second season, set to premiere in 2012.
And now, the crew of Breaking In is about to pull off the best heist ever: coming back from cancellation.
Deadline.com is reporting that the Christian Slater comedy caper will be getting a 13-episode order for this season. That's right, Breaking In might possibly beat the evil cancellation demons for a second time...
Back in the spring, Fox announced that it wouldn't be renewing the half-hour comedy which stars Slater, along with Bret Harrison, Michael Rosenbaum and new House gal Odette Annable. But a sliver of hope was given to fans when Fox decided to keep the casts' options in case they decided to give the show another chance. And now it seems that chance is here, because negations are reportedly currently underway to bring Breaking In back to the Fox schedule.
Fox had no comment, but we'll be keeping fingers and toes crossed that this deal goes through because we were so bummed to see Breaking In go.
As for new House castmember Annable, she'll be pulling double duty, as her contract allows her to do both shows. How will Breaking In coming back affect her House schedule? That remains to be seen.
Are you excited to hear Breaking In might come back?
(Originally published on Wed., Aug. 24, 2011 at 10:49 AM PDT)