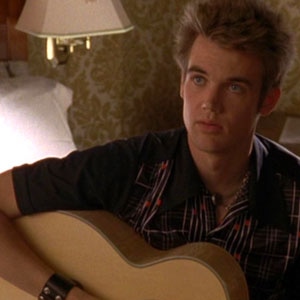 CW
Chris Keller was a huge troublemaker back in the day when One Tree Hill was about high school students. We loved to hate him, even when he pretty much broke up our favorite married teenagers, Nathan (James Lafferty) and Haley (Bethany Joy Galeotti).
And now, for the ninth and final season of OTH, Chris Keller is back, and back full time! The man behind the character, Tyler Hilton, told us all about his big return to the show after being gone for so long, and we had many questions for him. What will we be getting when he blows back into Tree Hill? And what's the atmosphere like on set for OTH's final season? Fortunately for us, Chris Keller is telling…
How did your return happen? Did the show reach out to you? Or were you just camped outside of the set since season four?
Tyler Hilton: Over the years the One Tree Hill cast and crew has become a small unit. It's really a small family and they have asked for a few years if I wanted to come back. [Last year I said], 'If they have one more season I will definitely do it,' and sure enough they were asked back, against all odds, so I had to comply.
OTH is definitely a show that beats the odds
[At this season's first] table read, the creator of the show (Mark Schwahn) had this great speech about how many shows we have been on longer than, and we are one of the longest-running shows on TV. It was really cool. It was also the first time I got to be a part of the cast from the first episode as a series regular. I always used to come in, hang out and then leave. But this season is the last, they are writing as if it is...They want to end it in a way they want to end it. It's cool I get to be back for the end of it.
Unless it gets renewed again. Stranger things have happened on TV!
I wish it would, too. I haven't been on this show the whole time like everyone else so I am the one silently chanting, "Season 10! Season 10!" But everyone else keeps looking at me like, "Dude, no."
So what has Chris Keller been up to since we saw him last in season four?
Just doing more of the same...for the most part he has just been touring and being Chris Keller all around the world. The funny thing is, because they skipped everyone ahead six years, it's been a long time since we have checked in with Chris Keller. It's been, like, 10 years or something, which is strange but it's also cool to see what he has been up to. I had dinner with Mark Schwahn and he told me what he was thinking in terms of what was going to happen this season...I have to say I think this is going to be the best stuff I have ever done on this show. It's just hilarious.
I really wish Chris Keller gained 200 pounds since season four and you had to film in a fat suit.
No, that would be great though! The stuff they have been coming up with, it just seems like they have been dying to do Chris Keller stuff for so long and they've been saving it all up.
What do you want fans to find out about Chris Keller?
I am a fan of the character just as much as everyone else. When I get the script, I run home because I cannot wait to read it, like it's the newest book in the Twilight series or something. I hope the fans find out the same thing I want to find out. I just want to know more about his backstory and where he has come from...Something happened in the last script that confused me, and now I am not quite sure who Chris Keller is. He is in a territory that I don't even know, so I am just hoping to find out what made him the way that he is. I want to know: Was he born this way?
In the past, Chris has caused friction between Nathan and Haley. Is it the same story this time around?
Everyone is 10 years older than the last time Chris Keller came to town, there may not be the same kinds of situations, but there is still a lot of drama there. This is probably my favorite season of the show, ever. It's so wound up into each other...I definitely do have a lot of dealings with Haley.
You will be performing on the show, right?
Yeah. The album I have been working on, releasing in January, [fits in] right with the first episode, so we are putting a lot of my music on the show. As always, my music is Chris Keller's music. Chris Keller does have good taste in music. So yeah, I will be performing on the show, playing some of my songs, and I get to play with some other people and help out some other artists, too.
What's the atmosphere like on set while you guys shoot the final season?
Last season people were probably just feeling exhausted and unsure as to whether or not it was the last season. Now they know and we only have to be out here for four months...It kind of reminds me of the summer camp feel, when everyone is new and so excited to be here, always getting into trouble and having fun and hanging out with each other all the time. And that's what it feels like now, which is great because it doesn't feel like work at all.
Happy see a different side of Chris Keller this season? Ready to see OTH end? Head downstairs and share your thoughts!