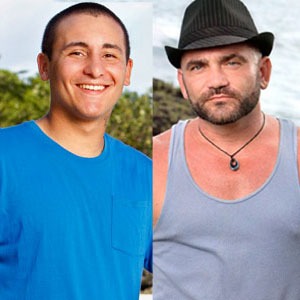 CBS
Survivor just can't quit Russell Hantz.
The notorious villain and three-time Castaway is making his presence known again in season 23: His nephew, Brandon Hantz, is now competing for the million-dollar prize and title of Sole Survivor of Survivor: South Pacific.
How does the 19-year-old oil tankerman stack up against his infamous uncle—and fellow Castaways? We were on location in Samoa when filming began, so read on for the inside scoop from the set…
Among the Castaways Brandon is competing against are two beauty pageant queens (Misses Washington and Eritrea), a Woody Allen-channeling Harvard Law School student and country music singer-songwriter Whitney Duncan, who made headlines this spring when her cousin Holly Bobo was abducted (tragically, she is still missing). Like last season, which saw the ignominious early exit of R.Hantz, each tribe will be joined by a surprise Survivor veteran (to be announced next Monday). For now, Brandon's Upolu tribe and the opposing Savaii tribe comprise eight castmembers each.
Upolo Tribe (Blue)
Albert Destrade, 26, Plantation, Fla.; baseball/dating coach
Brandon Hantz, 19, Katy, Texas; oil tanker crewman
Christine Shields Markoski, 39, Merrick, N.Y.; teacher
Edna Ma, 35, Los Angeles; anesthesiologist
Mikayla Wingle, 22, Tampa; bartender/lingerie football player
Rick Nelson, 51, Aurora, Utah; cattle rancher
Sophie Clarke, 22, Willsboro, N.Y.; medical student
Stacey Powell, 44, Grand Prairie, Texas; mortician
Savaii Tribe (Red)
Dawn Meehan, 41, South Jordan, Utah; English professor at BYU
Elyse Umemoto, 27, Las Vegas; dance team manager (Miss Washington 2007)
Jim Rice, 35, Denver; medical marijuana dispenser
John Cochran, 24, Washington, D.C.; Harvard Law School student
Keith Tollefson, 26, Edinia, Minn.; water treatment tech
Mark Caruso, 47, Forest Hills, N.Y.; retired NYPD detective
Semhar Tadesse, 24, Los Angeles; "spoken word artist" (Miss Eritrea)
Whitney Duncan, 27, Nashville; country music singer/songwriter
South Pacific will also continue last season's Redemption Island twist: Instead of going home, voted-off Castaways are exiled to Redemption Island and duel against another castoff for a chance to return in the game. This season, however, all the R.I. duels will feature only two (never three) competitors.
"I don't want to see Redemption Island," Brandon Hantz told us on location. "I'm not a good person to be alone." And unlike his uncle, the squirrely scoundrel who burned bridges as well as his tribemates' socks, Brandon insists, "I'm a team player…I think I can be cocky, but I don't want to be known as a disrespectful or arrogant person."
"I'm gonna bet that Brandon's the real deal," host Jeff Probst told us in Samoa. "Brandon's big question is: Are you going to tell people that Russell is your uncle? If you do, you're a fool, because you are gone."
(Uh-oh. Even if Brandon keeps quiet about the family connection, his tribemates might find out anyway: His last name is emblazoned on his arm in a large "Hantz" tattoo. A few days into the game he was still hiding it, but it gets awfully hot in Samoa.)
"You wonder how much of that blood is in there—is he going to be as evil as Russell was?" Jeff mused. "From talking to him, I feel like he's a pretty good kid. But it's always in the back of my mind, is he even better than Russell?"
Survivor: South Pacific premieres Wednesday, Sept. 14 at 8 p.m. in a special 90-minute episode on CBS.