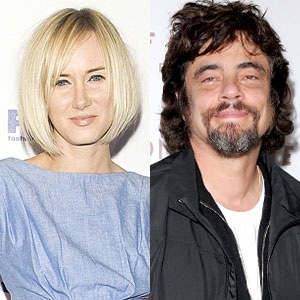 MALFER/AGENCY PEOPLE IMAGE/SIPA; Jason Merritt/Getty Images
It was the pregnancy heard 'round the Internet.
Kimberly Stewart welcomed a daughter on Sunday, which also happened to be her 32nd birthday, People reports. This is the first child for the 31-year-old model-actress, who shocked many earlier this year by revealing her baby daddy to be actor Benicio Del Toro.
But guess who's doing the initial gushing over Kimberly's little girl?
New granddad Rod Stewart, of course.
"My joy is indescribable," he told People of the arrival of his first grandchild.
There's no word yet on whether or not Del Toro was present for his daughter's birth, but Us Weekly reported that Rod, his wife, Penny Lancaster-Stewart, and Kimberly's mother, Alana Stewart, were at the hospital in Los Angeles for the delivery.
Del Toro's rep confirmed Stewart's pregnancy in April, telling E! News that the Oscar winner was "very supportive. Although they are not a couple, they are looking forward to the arrival of the baby."
The couple have not yet announced a name for their new arrival.