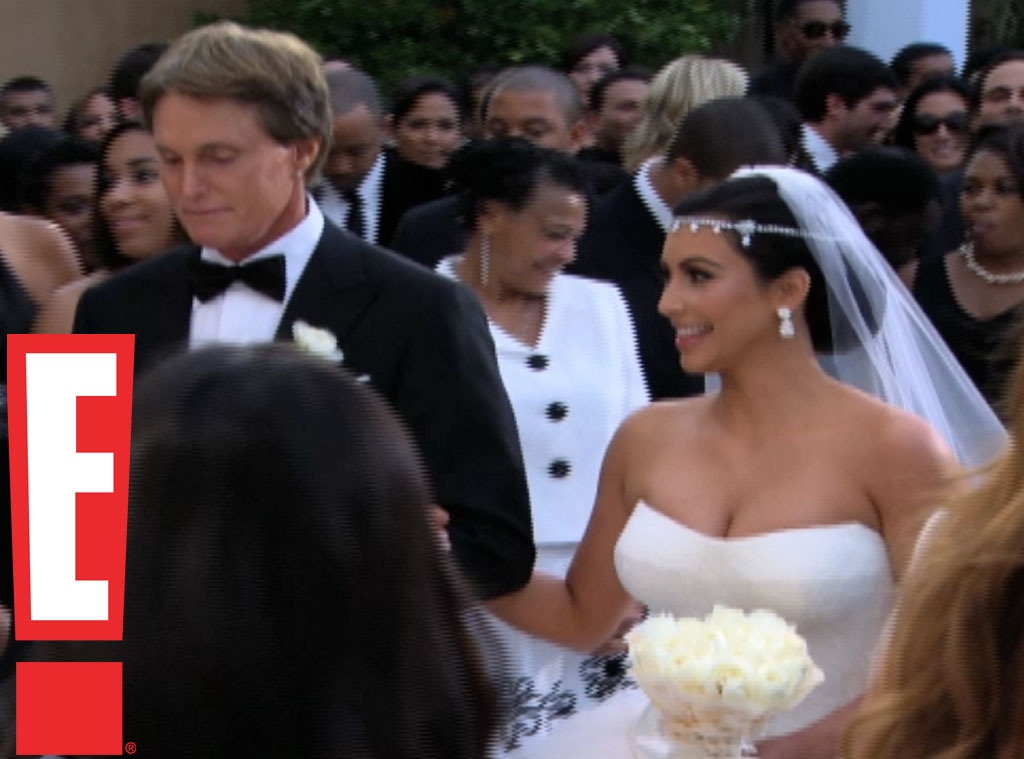 E! Networks
What's black and white and beautiful all over—with just a little hint of pink?
Kim Kardashian's wedding ceremony, that's what!
The E! star tied the knot tonight with Kris Humphries in front of 450 of their nearest and dearest, and we've got all the deets, from how Kim topped off her unforgettable bridal look to the touching tribute to Kim's late dad to how little Mason Disick nearly stole the show, twice!
Oh, and you probably want to know a little bit about the dress, right?
As you all know, Kim wore ivory Vera Wang. But though People will have those pictures for you this Friday in the Sept. 5 issue, we can tell you that the dress was strapless, with a fitted bodice, a full, rather traditionally cut tulle skirt, and an epic train. The shoes were Guiseppe Zanotti. Her hair was up and her veil remained off her face as she walked down the aisle, the veil topped by a jeweled headpiece with diamonds that dripped onto Kim's forehead.
Bruce Jenner walked her down the aisle. She carried a bouquet of white roses, which appeared to be the flower of the evening. The entire ceremony—and the ongoing reception—had a black and white theme, with the only stitch of color being the tiny pink box that Humphries' best man, longtime pal Josh Ketroser, presented the rings in.
Khloé Kardashian Odom and Kourtney Kardashian were matron and maid of honor, while Kylie and Kendal Jenner and Kris' sister, Kaela Humphries, served as bridesmaids. All wore ivory.
According to E!'s chief news correspondent—and wedding guest!—Ken Baker, the ceremony started at around 6:37 p.m., lasted approximately 30 minutes and was brimming with charming moments.
The program passed out to guests included tributes to Humphries' late grandmother and grandfather, as well as to Kim's late father, attorney Robert Kardashian.
"I so wish my dad could be here today to walk me down the aisle. But I know in a way he is here, and I feel his loving presence all around me. I love and miss you, dad," read the passage prepared by Kim.
As Humphries took his place at the altar, he could be heard whispering to a buddy, "I'm nervous," but he steeled himself with a few deep breaths and carried on.
Kourtney's son Mason was the ring bearer, but as Kourtney started carrying him down the aisle (marked with the same intertwined "K" logo from the invitations) she stumbled slightly, prompting a collective gasp from the guests. All was fine, and Mason grabbed the symbolic pillow and hurried it down the aisle himself. After that, it was into daddy Scott Disick's arms for most of the ceremony.
Pastor Joel Johnson, who's known Humphries since he was a teenager, did the officiating. He opened by telling those assembled, "This is not just a mere wedding event."
How could he tell?!
At one point during the traditional Christian service, Johnson recounted how he had asked the bride and groom beforehand to write down the thing each loved most about the other and show him their answers.
According to the pastor, Kim said that Kris puts a smile on her face every day, he's the "yin to her yang," he brings calm to her life, she appreciates the trust he gives her and, to quote Kim, he brings the fun out of her. As for Kris, he said he loved Kim for her compassion, how she treats every day as if it's her last and how, the first time they met, all she talked about was her family.
The din of helicopters whirring overhead was constant, but the bride, groom and pastor were miked for the occasion, so the noise didn't mar the mood too much. (The cameras that were onhand capturing all the action for E!'s two-part wedding special were strategically placed and draped in white to better blend in.)
The ceremony concluded with a prayer, and little Mason showed his agreement by joining in with a cry. Kourtney helped him calm down, Kim and Kris kissed, and there was much applause.
It was off to the grounds out back for champagne and hors d'oeuvres before the big reception began. Kim had at least two more outfits she was planning to change into, both Vera Wang and both ivory. Kris swapped his white Ermenegildo Zegna jacket and bowtie for a black jacket and tie by the same designer to match his groomsmen.
Go to E! Online and tune into a special edition of E! News Sunday at 6 p.m. to see exclusive video from Kim's wedding!