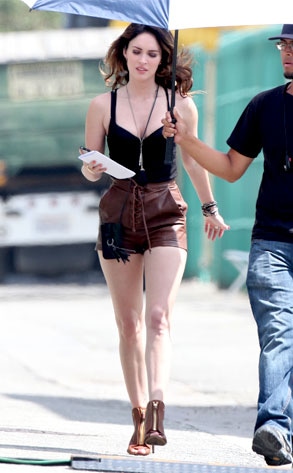 Rios/ JFXIMAGES.com
Who wants to see Megan Fox all Knocked Up?
Well, now you can.
No, she's not pregnant, but...
Fox was spotted earlier this week in Los Angeles filming This Is Forty, Judd Apatow's Knocked Up sequel that revolves around Paul Rudd and Leslie Mann's characters from the hit comedy.
Fox has a costarring role, but details about her character remain a mystery. During the outdoor shoot, she looked healthy and not as thin as she has been in the past. She wore what looked like brown leather lace-up shorts, a simple black tank top and brown leather and zipper heels.
"Megan is hilarious," Rudd told me last night at the Nylon Guys and WeSC party at Gjelina restaurant in Venice. "I don't know if people don't realize that, but she is really really funny."
Fox's comedic chops aside, I'd be remiss not to tell you what Rudd had to say when I asked him about wearing a long hair wig for his latest movie, Our Idiot Brother (out Aug. 26).
"I used to have long hair when I was 18 until about 22," he said. "It wasn't a hippie thing. I was hoping to look like Michael Hutchence from INXS. I pretty much didn't cut my hair for four years."