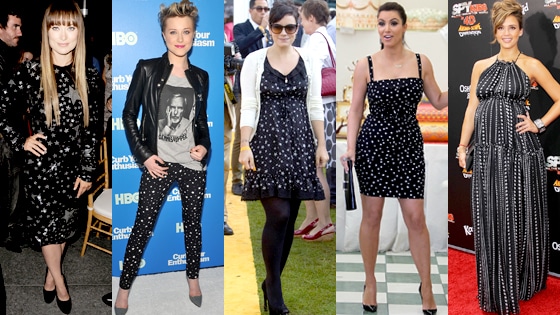 FilmMagic
Hollywood's stylish celebs have got their heads in the stars!
And it's all thanks to Dolce & Gabbana's out-of-this-world star-print collection, which so many famous faces—from Fergie to Kim Kardashian to Olivia Wilde and everyone in between—has been rocking all summer long.
So which fashionista rocks it best? Let's check out all the looks...
Mama-to-be Jessica Alba glowed in her star-studded maxidress at the Spy Kids premiere, while British model Pixie Geldof (bottom pic, third from left) looked stunning a strapless chiffon gown at the Harry Potter premiere in London.
Rose McGowan showed off her bod in a formfitting, strapless version at the VH1 Do Something Awards, paired with red hot lips and pumps.
Solange Knowles and Evan Rachel Wood took the pants route, with B's little sis doing it up in a black blazer and button-up while EVR opted for a tough-girl leather jacket .
Fergie, Rosario Dawson, and the new Mrs. Humphries took a short cut, showing off their gams in variations of the minidress. The Black Eyed Pea did yellow color-block with a tight neckline at the Teen Choice Awards, while Rosario opted for a chiffon, butterfly-sleeved number during the Fourth of July weekend. And Kim kept her best assets in mind in this ruched mini while shopping for a wedding cake.
Lucy Liu and Lilly Allen paired the lunar look with dark tights. Lilly attended the Veuve Cliquot Gold Cup Polo in this midnight frock paired with a light cardigan, while Lucy rocked out at the Big Chill Festival in this sleeveless mini and ankle boots.
So which star looks best in the print? Weigh in below!