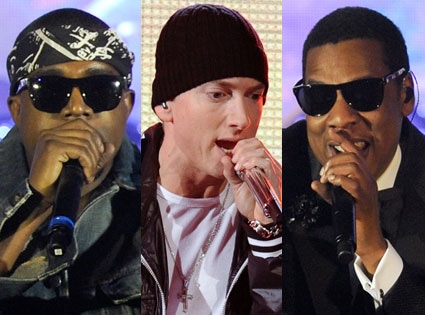 Ethan Miller/WireImage.com, Kevin Winter/GettyImages.com
Whether it's spitting a flow on the stage or competing for the No.1 spot on the Billboard charts, hip-hop artists are always getting into some type of battle.
And this is no different.
Rolling Stone revealed their list of today's top rappers in the game, which included names like Kanye West, Jay-Z, Eminem, Lil Wayne and Drake, ultimately choosing the artist they felt deserved the honor—and ego-boost—of being named King of Hip-Hop.
So which flowmaster is chillin' with an imaginary tilted crown on top of his head?
Well, whaddya know? The white boy's still got it.
Eminem snagged the top spot on the mag's list (and if your first reaction was "WTF," you're not alone).
We've got Kanye and Hova's well-known success in the industry (not to mention Watch the Throne scoring massive positive reviews) and Weezy and Drizzy Drake coming out with a new banger almost every week, so what gives?
Well, this decision was based on a couple things: albums released from 2009 to the present, album sales, rankings on the R&B, hip-hop and rap charts, YouTube video views, social media, concert grosses, awards and critics' opinions.
Mr. Marshall Mathers took the title based on his whopping album sales (7.5 million during the time period) as well as YouTube views (1.3 billion) and social media (44 million Facebook likes and 5 million Twitter followers).
"We're not looking for the all-time greatest, although many of our contenders would vie for that crown," the magazine stated.
And there you have it.
Here's where everyone else ranked (and take notice Miss Nicki Minaj represented for the ladies):
1. Eminem
2. Lil Wayne
3. Drake
4. Kanye West
5. Jay-Z
6. Nicki Minaj
7. Rick Ross
8. Ludacris
9. Gucci Mane
10. T.I.
11. Snoop Dogg
12. Diddy
13. Pitbull
14. Fabolous
15. Wiz Khalifa
16. B.O.B.
17. Waka Flocka Flame
18. Lupe Fiasco
19. Kid Cudi
20. Big Boi