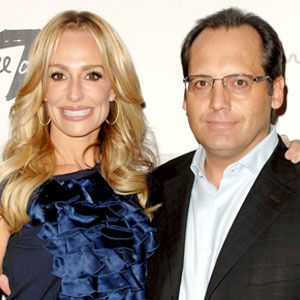 ANDREAS BRANCH/patrickmcmullan.com/Sipa Press
Russell Armstrong had his troubles, but his friends and family did not see this coming.
The estranged husband of The Real Housewives of Beverly Hills matron Taylor Armstrong was found dead last night after apparently hanging himself at his Mulholland Drive house.
While a routine investigation is under way, no one will ever really know what caused Russell such irreversible despair. But the venture-capital executive was plagued by on- and off-camera personal, marital, financial and legal troubles, and here is a look at some of the seemingly innocuous pieces that, when put together, formed a tragic picture.
Oct. 10, 1995: Russell is charged with felony tax evasion. The details of the case are sealed, but the matter is closed in 1997 with the IRS-shirker being sentenced to five years' probation and 150 hours of community service to be completed within two years.
December 1997: Russell is arrested in West Hollywood and ultimately charged with misdemeanor spousal battery and battery over an alleged altercation with then-wife Barbara Ann Armstrong. He is freed on $15,000 bail and, while awaiting trial, ordered to attend therapy once a week, at least two AA meetings every week, and abstain from all alcohol and drug use.
March 1998: Per court records, Russell is arrested again following a fight with Barbara after she shows up at his house to confront him. He's not required to post additional bail and, on March 30, he pleads no contest to misdemeanor battery. The spousal charge is dropped and Russell is sentenced to three days in L.A. County Jail, placed on three years' probation and ordered to perform 50 hours of community service, spend a minimum of one year in anger-management therapy, attend 50 AA meetings and give a $1,000 contribution to a women's clinic in Venice, Calif.
March 20, 2003: Russell sues one Anthony Vinatieri for upward of $5 million, claiming slander, fraud, intentional infliction of emotional distress and other torts for allegedly bad-mouthing him in front of investors. Vinatieri supposedly told honchos from Brighton Opportunity Fund that Russell was involved in organized crime, had misappropriated funds, was involved in money laundering and was otherwise someone you don't want to do business with.
August 2004: Barbara files for divorce from Russell and obtains a temporary restraining order on behalf of their then-6-year-old son, Aiden. In a sworn declaration, she alleges that her husband slapped their child and had acted violently toward him on multiple occasions. Barbara also claims that Russell spanked his other son, Griffin (from another relationship), "so hard that he was lifted off the floor and he cried."
"His physical abuse of me was one of the major reason that we separated only months after Aiden was born," Barbara states.
Also included in the filing is a declaration from ex-girlfriend Claudia Haro, who claims that Russell hit her during the six months they dated and that she witnessed him slapping Aiden.
Russell swore in a separate declaration that an investigator from Child Services had looked into their situation and found no evidence of "inappropriate conduct."
Oct. 16, 2005: Russell files for Chapter 7 bankruptcy after he's unable to pay $48,742 he owes American Express.
Oct. 27, 2005: Russell and Taylor tie the knot, his second marriage.
March 22, 2006: Russell's bankruptcy filing is converted to Chapter 11.
May 11, 2011: Taylor's rep denies reports that she and Russell have split up, saying they are "both really committed to making their marriage work."
July 15, 2011: Taylor announces that she has filed for divorce, calling it a "difficult decision," but one that's in her family's best interests. In her petition, she cites their date of separation as July 1, requests primary physical custody and joint legal custody of their 5-year-old daughter, Kennedy, and asks that her maiden name be restored.
July 29, 2011: Taylor and Russell are both named in a $1.5 million lawsuit filed by a company that claimed Russell's company misappropriated funds and Taylor helped him spend his ill-gotten gains.
Aug. 15, 2011: Bravo sends out a RHOBH press release noting that one of Taylor's plot points this season will be her continuing struggles with "a loveless marriage." Taylor had told E! News that the coming season would include, for her, "a lot more tears and a lot more pain."
Aug. 15, 2011: Russell Armstrong commits suicide by hanging. He is survived by his wife, their daughter and two sons from previous relationships. An autopsy is expected to take place on Wednesday.
Aug. 16, 2011: Barbara, Russell's ex-wife and mother of his 13-year-old son Aiden, keeps things classy and impersonal by flat-out blaming Taylor for her ex's death. She tells RadarOnline.com: "I don't care for her at all. I think she's the reason for this."
Aug. 16, 2011: Russell's longtime attorney, Ronald Richards, tells E! News that he spoke to his client two days ago, and he "seemed fine...just dealing with the normal problems affiliated with the divorce." Richards had been representing Russell in both his divorce and an ongoing civil suit.
Then again, "fine" didn't necessarily mean that Russell wasn't troubled.
"Anytime you have one spouse become famous and the other one stays the same, it creates problems," says Richards of Russell's shifting dynamic with Taylor. Negative remarks made about him on Real Housewives "definitely" bothered him, the lawyer says.
"He was always depressed," says Richards. "He was always disappointed about the divorce and financial issues."
But, he added, "nothing to this level. If he would have told me he was suffering to this extent I would have helped him. I would have gone over to his house last night. He was a good guy."
Asked whether Russell's estate would prove difficult to sort out, Richards says, "I don't believe he has any assets to worry about."
Aug. 16, 2011: A rep for Taylor tells E! News that she is "devastated by the tragic events that have unfolded."