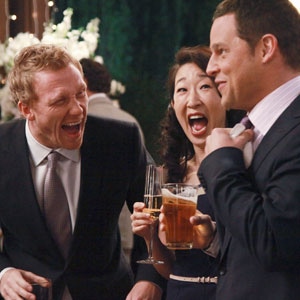 ABC/RICHARD CARTWRIGHT
Are you guys ready for two hours of Grey's Anatomy? Because that's what you're going to get when it returns on Sept. 22: a two-hour premiere full of drama, sinkholes and Cristina (Sandra Oh) bitch-slapping Karev.
But there's more to the first episode of season eight than just slaps and medical mishaps. According to Justin Chambers and Kevin McKidd, there's going to be a lot of "fallout" within the group, plus Owen and Cristina going head to head on that whole baby issue. Or should we say babies…
When we chatted with McKidd about Cristina and Owen being on the outs, he assured us that there would be no easy solution to the problem put forth in the season-seven finale. In fact, this problem will probably be around for a while.
"It resolves in an interesting way. In a quite unexpected way, I think," he says. "But I don't think that's the end of it. It's such a big issue. These things always come back. I've noticed in life you can't brush these things under the carpet."
Chambers then jumped in to spin a happier ending for TV's cutest doc duo. "He's gonna knock her up. That's what's gonna happen," he (unfortunately) jokes. "He's gonna knock her up and she'll have a baby by the end of the season. Twins."
"Triplets!" McKidd adds with a laugh.
Alright, you two. Stop before the fans start believing these baby storylines and go running off to Twitter with them. Well, we're not really helping with rumor control either, are we? Let's move on to a safer subject…The first episode back.
"There's a big sinkhole in the opening episode. It's like a Towering Inferno episode," McKidd tells us. "It's pretty crazy. So, it gives us a lot of cool medical stuff to do."
Meanwhile, Karev will have his hands full with not only stitching people up, but stitching up his ruined personal life. "I think right now he needs to really work on his friendships, and he has a lot of trust issues," Chambers says. "And I think he needs to work on being a better doctor."
Maybe Karev should scrub up and start preparing for a triplet delivery. What? We're not fueling rumors! OK, we are. But wouldn't it be awesome if Cristina and Owen had three adorable babies?
Watch our full interview with Kevin and Justin below, and be sure to hit the comments to debate Cristina's choices and Karev's battle to get his friends back.