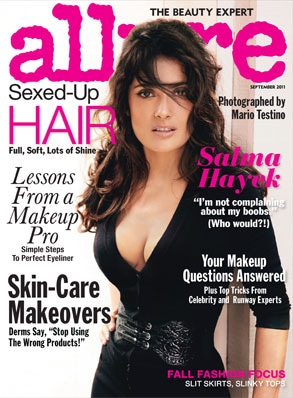 Allure
Don't you just hate it when suddenly refreshed-looking celebs play coy on the topic of aesthetics, denying they've had any work done or arguing over the technicalities of plastic surgery vs. treatments vs. procedures (you know who you are, ladies and gents, and you're not fooling anyone)?
Luckily, Salma Hayek has no such qualms about coming clean, and took to the pages of Allure to let the world know exactly what on her gorgeous visage and bod have had a little nip/tuck action…
Absolutely nothing! And not only is she against the practice when it comes to her own skin, but she's not such a fan of its pervasiveness throughout Hollywood, either.
"I believe that every woman is entitled to fight to preserve her youth," the covergirl told the mag. "I've never had anything done on my face—I've never had dermabrasion or peels or injections of any kind, nothing."
As for those who have, well, she's not keen on that whole one-procedure-fits-all look that's starting to prevail among famous faces.
"It's like the uniform of a generation," she said. "And it's not necessarily beautiful. It's not wrinkled-looking, but it's not beautiful."
So what's an aging actress to do? Well, Salma seems to have just the ticket, as she's just released her own beauty line, Nuance, at CVS stores nationwide.
But hey, don't hate her because she's (naturally) beautiful. Hate her because she figured out how to capitalize on it.