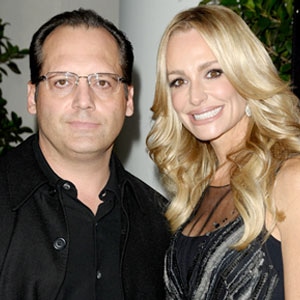 Jason LaVeris/FilmMagic
The life of one of the Real Housewives' most talked-about husbands has come to a tragic end.
E! News has confirmed that Russell Armstrong, the recently estranged husband of Beverly Hills' Taylor Armstrong, was found dead in his home Monday night after an apparent suicide.
He was 47 years old.
The Los Angeles Police Department confirmed to E! News that Russell was found dead from an apparent hanging in his residence on Mulholland Drive. His time of death is listed as 8:16 p.m.
According to the coroner, no official cause of death has yet been established, though the death is being investigated as a suicide at this time. They expect to begin examining his body tomorrow.
In addition to Taylor, who filed for divorce from Russell after six years of marriage last month, citing physical and verbal abuse—which itself came in the wake of a not particularly flattering portrait of Armstrong on the first season of the reality show—he is survived by the couple's 5-year-old daughter, Kennedy, as well as a 13-year-old son, Aiden, from his first marriage to Barbara Frederickson, and an 11-year-old son, Griffin, with former fiancée Milette Fields.
Taylor was reportedly informed of Russell's death by authorities last night. No suicide note was found, but it has obviously been a rough few months for Armstrong.
In addition to the collapse of his marriage, Russell was also recently sued, along with his estranged wife, for $1.5 million by a company claiming the venture capitalist misappropriated funds for his own personal use.
Meanwhile, just days ago, Taylor spoke to E! Online's Marc Malkin about her devastating split from Russell.
"Unfortunately for me this year, there were a lot more tears, a lot more pain," she said. "It's been such an emotional ride this year."
It's unclear how much Russell appears in the forthcoming second season of The Real Housewives of Beverly Hills, which premieres Sept. 5, or whether or not producers will be cutting or otherwise tweaking the show in light of the tragic news.