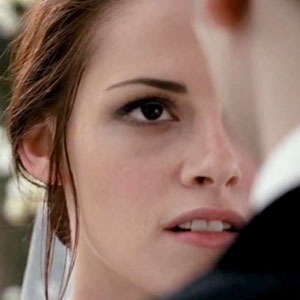 Twitter
Look at it this way, Team Edward: Maybe you can't have the vampire, but at least you can have the dress that Kristen Stewart's Bella Swan wears when she marries him.
Good enough?
As we already know, the dress Bella wears in Breaking Dawn is designed by Carolina Herrera, but today it was announced that another bridal company will be reproducing her bridal look for the masses...
Women's Wear Daily reports that "Alfred Angelo has already secured the role of exclusive licensed manufacturer of Swan's bridal gown." 
The replica dress, which will be sold under the Twilight Bridal by Alfred Angelo label, will be available in the brand's stores and other bridal retail outlets in late November after the flick premieres.
Details of the dress Bella dons in the movie have been kept supersecret, but fans of the series know Bella wears a very old-fashioned, Jane Austen-esque style as a tribute to her 110-year-old groom.
Er, that doesn't sound promising for modern brides.
If the copycat stays true to Stephenie Meyer's vision, would you say yes to the dress? Weigh in below.