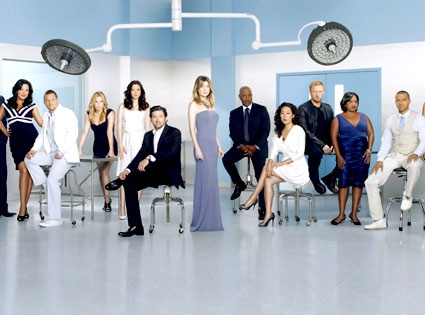 ABC/BOB D'AMICO
Look, television relationships are not for the faint of heart.
Pick any TV show and most likely it's featured a couple who, at one point or another, made you positively sick with angst. Otherwise, it's boring to watch, right? And Grey's Anatomy pretty much wrote the book on love, angst, and every emotion in between.
And that's probably why none of you Grey's fans are surprised to hear that one couple will be hanging on by a teeny-tiny thread in the season premiere, and beyond. And what's the deal with the super-quick shot of Caroline jumping Tyler in this hot and steamy Vampire Diaries promo? All that, plus scoop on Community, Glee, The Good Wife and more in today's Spoiler Chat!
Diana in Grand Haven, Mich.: Please, I'm dying for some Grey's news!
How about some news on Christina and Owen? Gird your loins, because it's going to be an uphill battle for those two. In fact, the sinkhole the doctors are battling in the season premiere makes a nice metaphor for Christina (Sandra Oh) and Owen. "It's not going to be easy for them. It's more than a bump [in the road]…it's kind of a sinkhole, actually," Kevin McKidd tells us. "They're really hitting it hard. He wants kids, she absolutely does not. It's not going to be pretty." Speaking of kids, McKidd tells us that we will get answers to the whole Christina-baby cliffhanger from the finale. "In the season premiere there will be a resolution to all of that in a quite unexpected way," he says. "It resolves, and then you think it's put to bed, but it isn't." Sounds like lots o' trouble ahead for one of our favorite TV couples.
Aims_World: Do you have any news on how/when Alex and Meredith will be friends again on Grey's Anatomy?
Don't hold your breath for Mer to forgive Karev within the first few scenes of the season premiere. Most of the two-hour episode involves Karev (Justin Chambers) trying his damnedest to wiggle his way back into Meredith's (Ellen Pompeo) good graces. "He's got to work his way back into the trust of his friends," Chambers says. But he has hope for them, and so should you! "Meredith will hopefully forgive him. I think she will," he predicts to us.
@Katemadeleine: Caroline and Tyler are the best characters on TVD. I neeeeeeeed to know what that one second clip in the promo was about?
Let's just say a green little monster whose name rhymes with Melousy becomes Caroline's (Candice Accola) friend when she sees Tyler (Michael Trevino) dancing with another girl at Elena's (Nina Dobrev) party. Looking ahead, their Romeo and Juliet-esque relationship takes a truly Shakespearean turn when someone we know—and kind of trust—aims to hurt our favorite blonde.
Adrian in Philadelphia, Pa: Did you see this tweet from Kevin Williamson? It says Stefan, or Paul Wesley, is "out of control" on Vampire Dairies. You have to know something about that…now spill!
We might know something. But guess who knows more? Paul. "We're going to open up [season three] with Stefan in the middle of almost losing it," he tell us. "And we get to watch the development of that as the season progresses. We see him slowly losing himself." How bad is he losing himself? "Clockwork Orange style," Paul says forebodingly. "[He's] a freaking nut-bag."
Jody in Crown Point, Ind.: Anything TVD or about my favorite baddie, Klaus!
Joseph Morgan told us that Klaus and Stefan are just having a splendid time together. "[They're] out having fun, painting the town red," he says. "Going dancing. Shopping. Going to garden centers. Picking out curtains. Trying out couches. Just trying to get to know each other." Oh, how we wish he wasn't kidding about all that. Best bromance ever. But seriously, Stefan and Klaus are up to absolutely no good. "They've been on a killing binge, quite frankly. Just wreaking havoc. I've been slowly trying to corrupt him and bring him back to the dark side," he tells us. Since the season premiere takes place months after the season two finale, will viewers ever see what happened in the days we passed over? "I'm not sure if we're going to flash back to that period, but [the killing] certainly hasn't stopped," Joseph assures us. "Things are only going to escalate from here, so we're going to see how far these guys are willing to go. And Klaus is willing to go as far as it takes."
Amber: Will you be posting the Fall TV premiere schedule?
It's already posted, silly! You can get all the dates for new series and your returning faves right here.
xSalgronQuick: Will Glee be revisiting the Puck/Quinn storyline as Shelby is returning?
Based on this bit of casting info, I'd say definitely! Glee is looking for twin blonde baby girls to be "very, very featured extras." Who thinks baby Beth will finally be seen again? Um, we do! And if the love child of Puck (Mark Salling) and Quinn (Dianna Agron) is coming around, it's pretty safe to say that that the couple formerly known as Quick might be having a "remember when we had a kid?" conversation.
Jennifer in N.J.: I love Mercedes! Is she graduating at the end of this season with the others?
Officially, we don't know if Mercedes (Amber Riley) is a senior or not. But don't think she's sweating the idea of graduating. While other cast members might be biting their nails in anxiety at the thought of leaving Glee, Riley is taking it all in stride. "I may not be coming back for the fourth season, so who knows? Whatever happens this season is just up in the air," she tells us. "I am about to be 26 years old. I don't want to play a high school student anymore. Glee was a good run. I think it's smart to keep having new students come in and hear their stories. I think it's good and I am really excited about the writers coming in this season."
Glenn in Playa del Rey, Calif.: I did not like all the talk about roadblocks for Michael and Nikita in last week's Spoiler Chat. Give me better news!
Sorry, but even Maggie Q is admitting there will be tough times ahead for Nikita and Michael (Shane West.) "It's going to be hard. They have no money!" she tells us. "They're like a new married couple, just starting out. Except they're trying to save the world, too." Think they'll survive to see their first anniversary?
Emily in Pa.: Scoop on Nikita!
The stars of Nikita want you to strap in, because the second season is going to be a wild ride. "Everything is different. It's the same good characters, but everything has changed. I think the fans will be real into it," Lyndsy Fonseca predicts to us. Shane West agrees with his costar, and even reveals how the first episode will be set up.  "It's basically going over what happened in the last episode of season one, and seeing where these characters might actually be now," he says. "Obviously Michael and Nikita are on the run. Division is turned upside down. It's nuts right now! It's entertaining and all the actors are back, so that's exciting, too. Knowing how Craig writes, so much will happen in four or five episodes."
Nell_here: Anything on how Desperate Housewives will be in the final season?
New resident baddie Charles Mesure will be font and center, according to sources. And Mesure himself tells me: "I play a guy named Ben Faulkner, he is Australian, a real estate developer, just moved into Wisteria Lane. And Vanessa Williams' character takes a bit of a shine to me. Whether I take a shine back remains to be seen, although I cannot imagine not. And I may or may not have an incredibly ruthless side in my business dealings."
Dee: I need some Will and Alicia hotness to look forward to on The Good Wife. Please tell me I won't be disappointed? Edelstein's got me scurred!
Alan Cumming didn't tell us much regarding Lisa Edelstein's new character, but we'll give you all we have. "She's playing the tutor," he says. "When I read [the script] you can tell something really great is going to happen with that character." So, would he think it's great if she gets between Will (Josh Charles) and Alicia (Julianna Margulies)? While you mull that over, let's give you a bit of scoop on Eli Gold. "At the end of the last season I had that little romance with America Ferrara's character. He has an ex wife, he has a daughter, all these things suddenly started coming—children coming out of the woodwork," Cumming recaps for us. "In this season [we] are going to find out more stuff about his personal life as well as his driven political life. That's exciting for me. And also about his religion. The very first episode I did when I was just a guest star, they mentioned I was a concert pianist. So I'm like, 'Come on. Let's do it.' He was a concert pianist in his past! I think that's hilarious."
Tricia: In the season premiere are we going to see where all the CSI: New York team was on 9/11?
Executive producer Pam Veasey tells us: "We wanted to make it not a memory show but a tribute show, but we wanted to reflect what people will be saying in September. Where was I? For example, Jo Danville (Sela Ward) wasn't in New York City,  but we will see her perspective. Jo was in Washington D.C. so her point of view was from the Pentagon and we have people who worked down on the street, [and] people were in buildings."
RhyleeS: How is Danny's new job going to affect his and Lindsay's relationship? #csiny
Danny's (Carmine Giovinazzo) going to learn a valuable lesson as Sergeant: Not all teams are as loyal and close knit as our beloved crime lab crew. Luckily Lindsay (Anna Belknap) will have her husband's back when his career is at risk. Awwwww.
Beth in Chicago, Ill.: Give us some Bones news! I read some place we will only be getting 13 eps. this season. Not enough.
It certainly is not enough, but alas, as of right now, Bones will have a 13 episode season. Know why? Someone got knocked up! Of course, Emily Deschanel might be raring to go after having the kid (ha!), so there might be a chance for more episodes beyond 13. But according to her sis, Zooey Deschanel, Emily is already exhausted. "She's real pregnant now. I think she's excited to actually have the baby," she tells us. "It's probably a challenge. She gets tired a lot. I could imagine that's hard doing a show. But she's a really hardworking person."
Shannen in Rockford, Ill.: Got anything on Cougar Town?
According to Ian Gomez, fans should prepare for an, um, acrobatic season. "I hear I am being fitted for a harness, so I am either being rode by someone…someone is either on me or I am on someone," he tells us. "Or I think there may be a zipline." Do we get to vote which one it should be? Because we do not pick the zipline option.
Randall: Anything on Private Practice?
"Everyone dies except Cooper." That's the word from Paul Adelstein and we're 101 percent sure he's joking. What he knows for reals: "I can tell you that Pete is struggling for his life. Addison and Sam are struggling for their relationship, the practice itself is struggling for its life, and Cooper is going to try and save a bunch of children."
@Dexterblog: Any scoop on Dexter Season 6?
Season six in one word? Darker. Take it away, David Zayas. "This season will be the darkest season. To me, it feels like the darkest season of all, which is a good thing." Hey, you asked for any scoop! Be more specific next time!
Martucacomayuca: What can u get for us Castle fans?
Penny Johnson Jerald, who's joining the cast of Castle as the new Captain, tells us that in the season premiere (which takes place three months after the finale), she doesn't know if she sees Beckett (Stana Katic) in the office…at all! She played it real coy, but it sounds like Beckett survives the shooting physically, but maybe not emotionally or mentally. Jerald also offered this tease on season four: "[Fans] are going to be like, 'Wait a minute? That's never happened on this show before!'"
Mperfectmistake: Any Fringe scoop not related to Peter? He'll be back, that's all I need to know for now.
How about we check in with Walter? "He doesn't function very well in the first couple of episodes," John Noble tells us. "Without Peter, he's insane. He won't leave the lab. He hears voices and has hallucinations…he's crazy! He still can solve problems, but he has to get Astrid (Jasika Nicole) to go out with a special [camera] so he can see the crime scenes because he won't go out himself." Geez, Walt. Pull yourself together!
MafaldaNeto: Anything Fringe please!
OK, now we'll talk about Peter (Joshua Jackson). "What's happening is we're going to bring Josh back in as Peter, but not in the same way. Not as a person that's been there with us all the time, but as a person that comes in our lives at this stage," John reveals to us. "That's very different, because the relationship that the audiences know won't be there. Olivia (Anna Torv) won't be in love with him, at least to start with. So we've started a whole possibility for relationship growth." Sounds like season four of Fringe is going to be downright awesome, right?
Marcie in San Pedro, Calif.: What did Tyler Hilton have to say about Chris Keller's return to One Tree Hill when you talked to him?
Check back later this week for our full interview with Tree Hill's bad boy, but we can offer up this tidbit to hold you over. When we asked about how Chris returns to town, he revealed that it's a "sneaky situation" that brings him back. "Chris Keller is always being his sneaky little self, and it's definitely how he comes [back]: in a very sneaky way," he tells us. Oh, and guess what else we get along with Chris' return? Jealous Nathan!
Lana: Any chance that Julia and Joel might have a baby on Parenthood?
I'm hearing they will end up adopting a boy, and that's not the only baby on the way! I'm hearing that a baby Nora is also coming. Somewhere around episode five. You know who's having that baby, right?
Noelle: Any scoop on Parenthood?
A source tells me that Adam and Crosby are buying an old "studio" from the 60s/70s that was beloved by Jerry Garcia and the San Fran/Berkley music scene, which is a converted Luncheonette. They are designing it to be a permanent set piece for this season, so it's gonna get a lot of play.
Jax_Tara: Jax and Tara scoop please. #sonsofanarchy
Get ready. The season finale is going to be another doozie. A source tells me that Jax will brood over a life and death decision regarding his family. A decision he has to make…It's not gonna be pretty, my sweet.
Natalie: What's coming up for Pierce on Community?
Ever wonder where Pierce (Chevy Chase) got his winning personality? We're going to get the chance when we meet Pierce's father this season. Think a Southern gentleman like Rhett Butler, but racist and particularly cruel to his son. Sounds like somebody has some serious daddy issues.
2011 Warner Bros. Entertainment, Inc.
MrsDeWinter_2 Pam: SDCC was lacking Dean spoilers. Any word yet on an overdue storyline for Dean on Supernatural?
We went straight to the source with your question—Supernatural star Jensen Ackles himself, during our set visit in Vancouver last week. Unfortunately, the two-time Alpha Male Madness champion said the spotlight won't be shining specifically on the eldest Winchester brother: "Sam [Jared Padalecki] is dealing with more of a personal issue than Dean," the dishy star dished. "Essentially the big topic [this season] is there's a new evil in the world and the boys are going to have to combat it by pooling their [meager] resources...It's going to be a difficult situation for both guys." (Stay tuned for more scoop from the Supernatural set, including whether the Winchesters will get lucky in love—and life without Castiel (Misha Collins) Sniff.)
@lanaya_salim: Any scoop on the Pretty Little Liars hottie Jason DiLaurentis? Is he really bad news bears?
First of all, you get a gold star for using the phrase "bad news bears." Well done. Your other prize? The scoop on Jason straight from the man who plays him: Drew Van Acker! We just got off the phone with Drew and he told us we'll definitely get an explanation from Jason for all those creepy pictures of Aria (Lucy Hale) in tomorrow night's episode. Check back with us tomorrow for more PLL intel courtesy of the show's new bad boy.
Ovaltine_Jenkins: Got any Psych scoop? I'm going through psome pserious withdrawal.
So are we, Ovaltine, so are we. Although Psych doesn't return until Oct. 12, we got some delicious deets on William Shatner's guest gig as Juliet's (Maggie Lawson) con-man father. "My relationship with my father has been estranged—we're sort of reconnecting and it's really rocky and uncomfortable, and Shawn (James Roday, Maggie's real-life BF) gets in the middle," Maggie told us on set. "That's really uncomfortable for us, and we have to work through it. It's a very a very complicated case—it involves theft—and a complicated episode." When we suggested Juliet has daddy issues—after all, Shawn's essentially a con man himself—she laughed and said, "It's interesting and eyebrow raising that Juliet would choose somebody very similar, but she doesn't know Shawn's a con man. She believes [in him] through and through, so this could get interesting."
Shannon in Middletown, N.J.: Thank you so much for the Degrassi sneak peek! It totally broke my Eclare-shipping heart though! Got anything to help ease the pain?
No Eclare goodies left for you, but we did ask Aislinn Paul about the nasty rumor going around that someone will die in the finale. Her answer? "I cannot confirm nor deny that there may be death," she teases. "There's definitely a close call." Speculate away, fellow Degrassians!
John from Santa Monica, Calif.:  What's coming up on Wilfred?
Have you ever wished Mary Steenburgen was your mother? Maybe that's just us. But in an upcoming episode of Wilfred we'll meet Ryan's (Elijah Wood) mother. Wilfred (Jason Gann) takes a shine to her but the biggest surprise is her complicated and messy relationship with her son. It's hilarious and let's just say that the apple doesn't fall far from the tree. 
Morris: Thanks so much for all the scoop on Chuck and Blair on Gossip Girl last week! But what about us Dan and Blair fans? Any word!?
I'm told there's "nothing really brewing" in the beginning of the season for Dan and Blair, sorry! I actually hold a very special place in my heart for Dair as well, and in my happy universe, C, B and D are all living in Utah together surrounding a gorgeous communal back yard. Keep the hope alive and next time we chat up the show runners we'll be sure to ask.
—Additional reporting by Jenna Mullins, Drusilla Moorhouse, Christina Dowling and Tierney Bricker