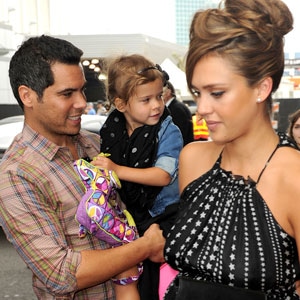 Kevin Winter/Getty Images
Congratulations are in order for Jessica Alba and Cash Warren!
The couple welcomed their second child on Saturday, with Jessica making the announcement on her Facebook page, complete with the baby girl's name and vital statistics.
Haven Garner Warren "was born on Saturday, weighed 7 lbs and was 19 inches long. Healthy and happy!" Alba proclaims. "Big sister Honor couldn't be more excited about the new addition to our family.
"Thank you for all of your support during my pregnancy. It means the world to me."
The baby comes a few days before Alba's other new production, Spy Kids 4: All the Time in the World, due out this coming Friday (which the studio happily pointed out in a statement confirming the birth).
In fact, E! Online caught up with the gorgeous star just two weeks ago at the Spy Kids 4 premiere, where she spilled that Haven may just be the last child for the couple. Key word: May.
"I really can't imagine having more than this—more than what's happening right now," Alba said. "Kids are a lot of work and at the end of a pregnancy, it's sort of like you can't really imagine having more. But we'll see."
We'll definitely be watching. For now, though, congrats to the family on the new addition. Talk about a Fantastic Four!
(Originally published Aug. 14, 2011, at 7:33 p.m. PT)