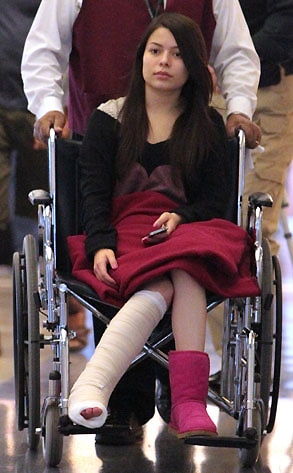 Deano / Splash News
Following a frightening tour bus accident Thursday morning, Miranda Cosgrove popped up at Los Angeles International Airport sitting in a wheelchair with her broken ankle in a cast.
 
The 18-year-old iCarly star suffered a fractured right ankle and toe after her bus collided with a tractor trailer in Illinois while she was en route to a concert in Kansas. 
While Cosgrove's mom was also injured in the accident, bus driver Randy McClure, who had to be cut out of the wreckage, suffered the worst injuries.
McClure is currently listed in stable condition, however, and is awake and expected to recover.
 
Following the crash, Cosgrove tweeted her appreciation to fans for their kind words.
 
"Thank u so much for all your messages," Cosgrove wrote. "They mean so much to me. Yesterday was extremely scary & I'm just so happy everyone's going to be okay."
 
While Cosgrove recovers from her injuries, her remaining tour dates have been postponed.