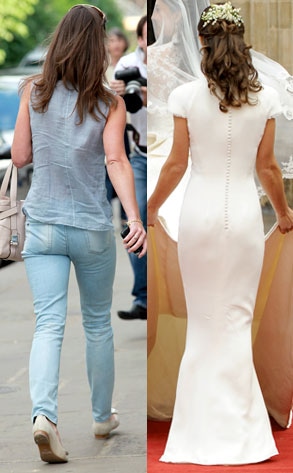 Neil Mockford/FilmMagic; CARL DE SOUZA/AFP/Getty Images
Did someone make a stop at Pad-dington Station on the way to the royal wedding?
That's apparently the question vexing the peanut gallery these days, the issue arising when one of the "experts" enlisted for the TLC special Crazy About Pippa noted that Pippa Middleton was looking especially well-rounded on her sister's big day.
Hey, with great visibility comes great absurd speculation, right?!
"She had this very pert bum sticking out," noted one British commentator on the special, which aired Tuesday.
"I'm not convinced that it's completely natural," said London spa owner Lesley Reynolds Kahn. "Because I think, if you look at other photos of her and you see her in jeans, she's got quite a flat bottom. "But I think possibly for the day, for that gorgeous dress, she may have had some sort of pants that gave her a little bit of a lift, or even a little bit of padding."
Or, here's another possibility: Incredibly well-made, expensive dresses are designed to do all the heavy lifting on their own (i.e. enhance a woman's shape in all the right places while simultaneously keeping the lesser parts down for the count), and couture is almost always going to do more for a lass than a pair of jeans.
You know, because Pippa's butt is just so average otherwise.
Reynolds Kahn said on the show that, ever since the wedding, her spa has been getting requests every day from all over the world for help in getting Her Royal Hotness' top-notch heinie.
"Tomorrow's one of our surgery days, and we've got three people booked," she said.