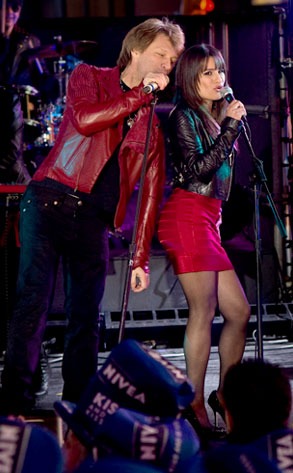 Warner Bros.
Could this be the super duet the world has been waiting for? Seriously, when Jon Bon Jovi and Glee's Lea Michele join forces to belt out a tune, you have to wonder if all other artists with thoughts of collaborating throw their hands up and just say, Well there's no topping that.
So what's bringing these two vocal powerhouses together and how can we get a listen to this performance?
Unfortunately, we'll have to wait until Dec. 9. The two are just a few of the many (and we mean many) stars appearing in director Garry Marshall's Valentine's Day follow-up, New Year's Eve. Why is the end of the year always so far away!
In the flick, Lea actually plays Elise, a backup singer to Bon Jovi's rock star Jensen (such a stretch, right?)
Rocking some slick reverse matching outfits, no doubt these two are whipping the New Year's crowd into a frenzy. Maybe with a little "Bad Medicine"?
Any requests? Let us know what you hope these two will be rocking out with as the clock counts down on 2011.