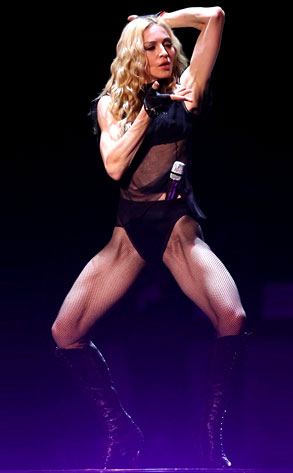 Leon Neal/AFP/Getty Images
Madge lauched her Sweet and Sticky tour this past Saturday in Cardiff, Wales, and of course, being Madonna, she had to create some kind of controversy.
She started the drama with a couple of political montages during her song "Get Stupid." The video interlude features images of destruction, global warming, Adolf Hitler and John McCain (uh-oh!), then goes on to include John Lennon, Al Gore, Gandhi and Barack Obama (oh crap!).
Naturally, McCain's people are pissed, and they let her know how not cool her little video is in this statement:
"The comparisons are outrageous, unacceptable and crudely divisive all at the same time. It clearly shows that when it comes to supporting Barack Obama, his fellow worldwide celebrities refuse to consider any smear or attack off-limits."
Also in response to the ill-conceived juxtaposition of McCain and Hitler, the founder of the tolerance-championing Simon Wiesenthal Center called Madonna's montage "an insult to all Americans, Democrats as well as Republicans.
"There ought to be no place in the political and social discourse of American culture for such deliberate distortions and lies sure to be viewed by hundreds of thousands of young people around the world," Rabbi Marvin Hier said in a statement issued Monday afternoon.
First the A-Rod thing, and now this? Seems like Madonna needs to step up her controversy game and stay away from politics. Celebrities and politics never mix well, a lesson we've learned countless times, but which they haven't. In fact, if today weren't a relatively slow gossip day, we probably wouldn't even be talking about this Madonna-McCain scuffle.
But we would be talking about those muscles. They're insane! Here are a few more tour pictures—because we know you want them:
M. shows off some awesome double Dutch skills. This is probably what those long rehearsals were all about. Also, it's possible Lourdes was the inspiration behind these costumes.
Frank Micelotta/Getty Images
Those dudes look a little shady, Madge, you probably shouldn't go with them.
Frank Micelotta/Getty Images
And of course, the much-blogged-about Britney Spears video, in which she goes crazy in an elevator and says the now infamous "It's Britney, bitch." Video here. And Madonna plays guitar? Really?
See, this is the stuff we care about—what Madonna does onstage, not her politics or what she does with A-Rod in her spare time.
(Originally published Aug. 25, 2008 at 12:15 p.m. PT)