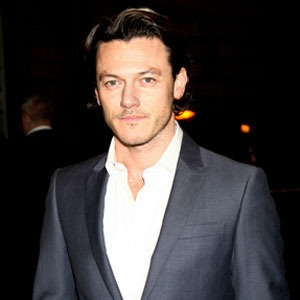 Dave Hogan/Getty Images
Rising star Luke Evans was once very open about being gay.
But don't ask him about his private life today.
The Welsh actor, who is currently in New Zealand filming The Hobbit (he'll next be seen in Immortals and The Three Musketeers, among other projects), had no problem discussing his sexuality with reporters back in 2002 at age 23 while appearing on the London stage in the Boy George musical Taboo...
Now 32 and a rising action star, he's gone quiet on matters of the heart. The Web has been buzzing this week with the discovery that his Wikipedia page was recently altered. What once said he was "openly gay," became, "Evans lives a private life and rarely speaks about his personal life." And as of today, there's no mention whatsoever of his personal life on Wikipedia.
Not so in 2002. At the time, Evans told gay magazine The Advocate that he decided to be out from the start because he didn't want to lie or hide. "If that means I'm going to be a poor man at 60, then at least I've lived a happy, open, gay life and not had to hide it from anybody," he said.
No one from Evans' camp is claiming today that Evans is suddenly not gay.
"I do not comment on my clients' personal lives in the media," his rep said in a statement. "As for Luke, he did so once, a long time ago when he was an inexperienced, young actor and now with maturity and hindsight, he has learned not to engage the press in his personal life again."
What changed? No one is saying. It's certainly can't be because he's hurting for work.
"It's not a big issue, and it's never going to be a big issue for me," he said in the Advocate interview. "[W]hether I'm successful or if I weren't successful, at least I'll never have that skeleton in the closet they can rattle out."
Never say never, Mr. Evans.