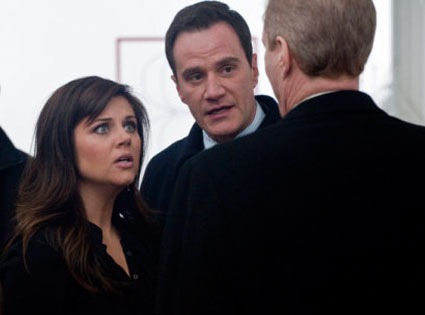 Will Hart/USA Network
Holy cliffhanger batman!
If you didn't see last night's White Collar midseason finale, we'll give you fair warning and let you back out slowly. Still here for the scoop? Excellent, because we just hit the White Collar set to talk to the stars about the crazy big thing that went down, and they told us what's coming up when the show returns.
Can Peter and Neal's relationship ever recover from this tragedy? Jump inside to find out!
Last night's episode ended in all the best and worst ways. Elizabeth Burke (Tiffani Thiessen) has been kidnapped by Neal Caffrey's (Matt Bomer) archnemesis, Matthew Keller (Ross McCall). Kidnapped! And worst of all, we are forced to wait months for resolution.
Fortunately for you, we caught up with Thiessen, Tim Dekay and Hilarie Burton on the set of White Collar and asked all about the shocking abduction. What can we expect when the series returns? Check out our exclusive video interviews below:
Still traumatized over one of the best TV wife's kidnapping? There, there, just imagine Neal Caffrey is there to hold you while you cry it out.