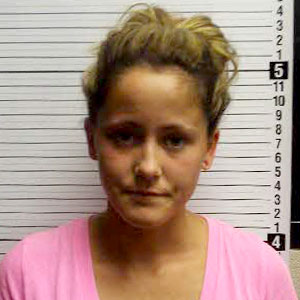 Jenelle Evans just can't seem to stay out of trouble.
The Teen Mom 2 star yet again spent some quality time with the local constabulary in North Carolina, following her latest arrest Monday.
So what did she do to earn a new mug shot?
Evans, 19, was arrested for violating her probation, the Brunswick County Sheriff's Department confirms to E! News.
After a routine meeting with her parole officer, during which random drug tests are administered, Evans tested positive for marijuana and opiates, the North Carolina Department of Correctons confirms to E! News.
She was locked up in the Brunswick County Detention Center under a $10,000 bond and is due in court on Aug. 24 to answer the latest charge.
There was no immediate comment from her attorney. Of course, he's been busy, so we completely understand.
The troublemaking teen was busted back in March for her role in a front yard brawl that was caught on tape. A month later, she was slapped with 12 months of probation and community service after copping a plea to an unrelated drug case. She logged time in a California rehab facility before heading back to the Tar Heel state a few weeks ago.
Earlier this summer, Evans was rushed to Brunswick County Hospital amid fears of appendicitis. Doctors instead found an ovarian cyst, and she appears to be fine.
At least health-wise.
UPDATE at 11:35 a.m. PT: Evans' lawyer, Dustin Sullivan, tells E! News that she will likely have to spend time behind bars for her slip-up. "She is looking at the 45 days active sentence," says Sullivan. "This new violation does not help her to avoid that time."
Evans, meanwhile, has tweeted that "the world is crashing down."
—Reporting by Claudia Rosenbaum