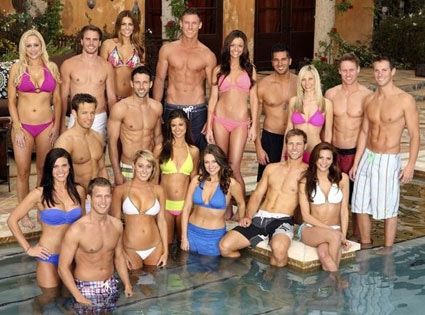 ABC/CRAIG SJODIN
Jake Pavelka and Vienna Girardi, we haven't missed seen you in a while! Ames Brown, didn't we just see you the other day? Gia Allemand, back for more, we see. Michelle Money, here to make trouble, we presume!
The second season of Bachelor Pad kicked off tonight with 16 castoffs and two "winners" from past seasons of The Bachelor and Bachelorette filing into an L.A. mansion in hopes of a second shot at love.
Oh, and maybe some of them want to get their hands on $250,000.
Vienna's nerves were already taking over by the time she stepped out of the limo to greet host Chris Harrison, who reminded her that the last time he saw her it was the night of her torturous joint interview with ex-fiancé Jake.
"Jake—are you hoping he's not here?" Chris asks. "Praying," Vienna replies. "Well, I'm glad you're back," Chris offered, ever the sly one.
Not taking any chances, Vienna started slamming Jake the moment she walked into the partially filled living room.
"Around you guys, he's going to come in and play the nice-guy act—like, I know it's all fake, so," she began, holding up a hand to acknowledge just how fake she thinks Jake in. "When he walks through the door he's going to pretend to be this genuine nice, sweet guy, but that man is a monster."
Instead, in walked Gia, who was already gunning for Vienna because she supposedly took up with Gia's boyfriend Wes Hayden (her spoils from Bachelor Pad's first season) while they were still dating.
Vienna continued to do her best to make it all about her, sighing and complaining that she wasn't feeling good and otherwise preparing everyone for the Worst Guy Ever to walk in the door.
Vienna's new man, Kasey Kahl (Bachelorette season six) gave Jake a very disapproving look when he first arrived, then followed him outside to where Vienna was already overdramatizing the situation. The group, which included Michelle and dentist Blake Julian (Bachelorette season seven) proceeded to engage in a very tense talk about the weather.
Jake threw Kasey for a loop by cornering him immediately to let him know that he just wanted Vienna to be happy and that he wasn't there to muck up their relationship. Kasey held off on slugging him ("I'm mentally beating the crap out of him and it feels freakin' awesome," he commented) but remained determined to get Jake get kicked off ASAP.
Like on Survivor, but with less actual dirt and more figurative dirt, the roomies have to form alliances and win challenges to fend off elimination. So, the next day it was onto the sex-harness challenge.
Seriously, the contestants paired off, the guys were strapped into harnesses and the women had to hold on for dear life or risk falling onto one of the nine neatly made beds waiting below. Straddling was the preferred method of choice.
First to fall were Gia and William Holman (Bachelorette season seven). Gia, not wanting to pair off with Jake and risk being targeted as a "power couple," was disappointed in her not-so-strong man—but William thought he'd scored just by pairing off with such a hottie. (Hmmm, why did Ashley Hebert dump this guy again?)
And what do you know? The last two couples hanging on after a half-hour of pain "worse than childbirth," per Ella Nolan (Bachelor season 14), were Jake and Jackie Gordon (Bachelor season 15) and Kasey and Vienna, each knowing that they'd be in serious danger of going home if they let go.
Even though Jake's foot was turning purple by the end, Kasey had to drop Vienna, and the former Bachelor and Jackie won roses (aka immunity), plus a third livesaving bloom to hand out as they pleased.
Meanwhile, a crack was revealed in Kasey and Vienna's airtight facade when she practically called him a liar for promising to always be there for her and then dropping her. (Um, he probably meant emotionally, and in the challenge he was beginning to lose feeling in his pelvic region.)
As for Jackie, the New York artist had appeared to be hitting it off with Ames, but part of her prize was a romantic date with Jake (if your idea of romantic is hearing all about Jake and Vienna's breakup), so...that's on hold for now.
When it came time to dole out the third rose, Jake somehow found himself struggling between Gia (an ally who was in danger) and...Vienna?! For real, Jake was wondering whether his ex might actually see him as a good guy again if he gave her a rose.
"She's, like, brainwashed you!" Gia cried as she experienced a sick case of déjà vu. "You're trying to kill the enemy, you don't put the enemy in a bomb shelter when you could just bomb them."
Kaboom! Vienna got the rose.
And in one of those no-rhyme-or-reason moves, the guys voted Alli Travis (Bachelor season 15) off because...she seemed trustworthy? Nice? Wore too much clothing? We're really not sure why.
Joining her on the way out was Justin "Rated R" Rego, the dude with the girlfriend from Ali Fedotowsy's Bachelorette season, who fully embraced his supreme-douche status by turncoating right and left, but who never got to exact revenge on his fellow suitors from season six, including "archnemesis" Kasey.
True to form, Justin snatched Jake's rose from his lapel before storming off.
Here are some other plot points of note from tonight's episode:
• Jackie's lame for leaving the rose thing entirely up to Jake. And Jake is not only a very bad strategist, he also really sucks for screwing Gia over. Is he a master manipulator? Delusional to think that Vienna and Kasey would fall for his "closure" speech? Pathetic if he really wants Vienna to like him? "He literally made me sick," Vienna announced later. "The only reason he's here is to make my life miserable."
• Kasey's alliance with Gia lasted about five seconds. The Bachelor Pad veteran didn't stand a chance after Vienna told him to get his head on straight and vote for her nemesis. And Blake easily convinced Gia to chuck Kasey, so no love lost there.
• Michelle revealed in her intro segment that her dad was recently diagnosed with stage-four colon cancer, thereby becoming more human and less spider-like. But she's still way too much for sweet, awestruck-looking Ames, her partner in the straddle challenge.
• Despite being exes twice over, Holly Durst (Bachelor season 12) and Michael Stagliano (Bachelorette season five) paired off—and we're hoping they end up together, whether or not it's with $250,000 in their pockets.
All right, fans, tell us what you're thinking. Is Jake really that skeevy? Is Vienna really that smart?! When will Michelle start acting like Michelle? And, most importantly, who's gonna win this thing?
Bachelor Pad Power Couple Poll
(Originally published Aug. 8, 2011, at 8:30 p.m.)