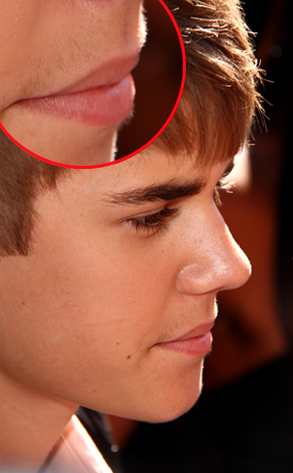 Juan Rico/Fame
Break out the magnifying glass, everyone—something fuzzy this way comes.
If there was any doubt as to whether Selena Gomez had done wonders for Justin Bieber's testosterone production levels, let this put it to rest—the Biebs showed up at last night's jaw-dropping Teen Choice Awards with a plus-one no one saw coming: a mustache.
At least, we (and the hordes of teen girls who took to Twitter to analyze the caterpillar patch of man growth) think that's what we're making out. Then again, we can only work the zoom button so much.
In any case, Canada's finest import since Ryan Reynolds' abs certainly wasn't deterred, and took to the blue carpet to proudly showed off his newfound badge of manhood.
And hey, even the most grizzly of guys has to start somewhere, right?