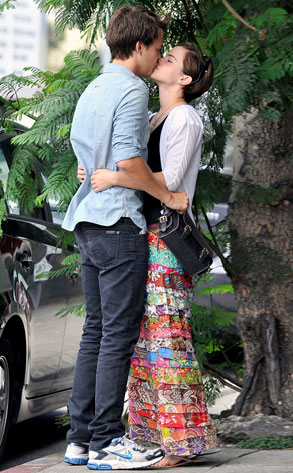 Fern / Splash News
Well, now we know why Emma Watson and Daniel Radcliffe beat Kristen Stewart and Robert Pattinson to the podium for Choice Liplock over the weekend—it's because Emma's been practicing off the clock. No fair!
Though we don't think her new beau, 24-year-old Johnny Simmons, sees it that way.
The cute couple, who met on the set of their forthcoming movie The Perks of Being a Wallflower earlier this year, was spotted in full-blown PDA mode after grabbing a meal together in Santa Monica Saturday.
There's no word on how the 21-year-old Watson spent the rest of her weekend, though she was not present Sunday night when Harry Potter delivered a repeated and nightlong thrashing to Twilight. But hey, guess she found a better way to spend her time than sparking fan feuds. After all, clearly she's a lover, not a fighter.