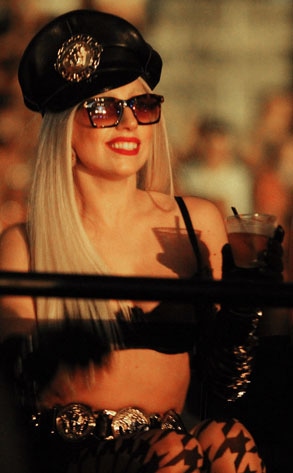 Tom Briglia/WireImage.com
We're not sure any torch was passed, but two generations of pop phenoms exchanged some admiration when Lady Gaga took in Britney Spears' Femme Fatale show Saturday night in Atlantic City.
Brit-Brit got the ball rolling from the stage by telling the crowd, "I have a very special guest tonight...Lady Gaga is here." Needless to say, the crowd went crazy.
But what did Mama Monster do in return?
Gaga, sitting up front in the floor section, stood and waved and a made a heart sign with her hands--and Britney hearted her right back. Awww, so cute.
Later, during "I Wanna Go," Gaga got on her feet and did a little fist-pumping. Clearly, she was enjoying herself as she double fisted drinks during the show.
During a break in the show, Gaga accidentally stole the show when the crowd started chanting her name and rushing over to snap pics.
Although she ducked out during the encore with security in tow to avoid the rush, her night wasn't over.
She was spotted hitting the blackjack tables at the Borgata Resort later that night.
Brit took to her Twitter post performance to give Gaga some more love, writing: "So amazing to have the beautiful @LadyGaga at the show in AC tonight. Love you girl."
So nice to see two of our favorite divas getting along!
Gaga wasn't the only familar face in the crowd. Brit's boyfriend Jason Trawick was also on hand, as was her dad and conservator Jamie, who was dipping tobacco during the show. Classy!