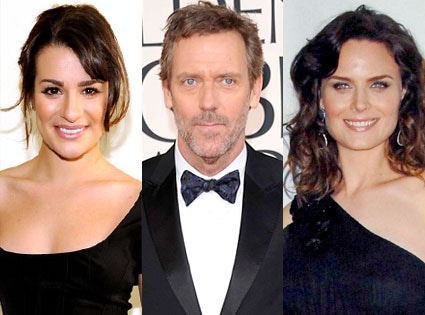 Frank Micelotta/PictureGroup via AP IMAGES; Giulio Marcocchi/Sipa Press; David Crotty/PatrickMcMullan.com/Sipa Press
Fox President Kevin Reilly just met with a room full of reporters at the Fox TCA, and you'll never guess which fun little controversy popped up front and center: Yep. That whole Glee spinoff/firings thing. You didn't think it was gonna go away, didya?
"I was disappointed I learned about it on Twitter," Reilly joked.
So what is the deal now? Is the Glee spinoff happening? And what is the plan for the o.g. Glee this season? Plus, far more important to many of you savvy TV fans: Could this be the last season for House and Bones? Well...
According to Reilly, the Glee spinoff is still a definite possibility.
"The spinoff was in the wind and is still in the wind," Reilly insists. "We haven't said we're not doing it. We talked about it last season. I can tell you that Ryan [Murphy] did talk to all the actors. The public nature of it took all the actors by surprise. Ryan probably does regret talking about it. We did decide to focus on this year."
Per Reilly, the upcoming third season of Glee—which will be pennned not solely by Ryan, Brad Falchuk and Ian Brennan as in seasons past, but a full writing staff—will make the fans happy.
"I sat down with Ryan and Brad to go over the new season, and my two Fox colleagues were fighting back tears at how good it is…The season feels so good this year. It's back to basics this year. One feedback we get is that with Glee, it's almost too much of a good thing. What we hear is we love your core characters. We love the arcs. We have never heard that people are sick of the relationships. They have an incredibly clean arc [this year]. There is a graduation at the end, we know who's graduating. How that's going to happen I'm not going to say."
So how did this whole spinoff/firings debacle happen? Well, although Reilly clearly which things had gone down differently, he is also quick to defend Ryan. "Ryan is a creative force," he explains. "I have never seen anyone that can take an idea from concept to fruition in a quicker turnaround and a more creative way than Ryan Murphy. When that spinoff started coming around I think his wheel started turning… And I think in the middle of Ryan's creativity, this got out. All of us were really surprised how this really took on a life of its own. This is something that was probably a two-day issue that somehow is taking on a different life."
So what can fans expect this year on Glee? "Other than some support stars, there's not gonna be any guest-star-driven shows or tributes in the first batch of episodes. The first batch really focuses on core characters. In general that's the push of the season—there's a very clear arc and the competition will be alive and well and driving to that graduation. Darren Criss is now fully on the show. The winner from The Glee Project will be joining further down the road. But there will be much more focus on the characters, which is what the fans want."
You know what fans of Bones and House want? Plenty more seasons to look forward to! So, this is happening...Right? Reilly makes it sound as though Bones is a sure thing and House—well, maybe not so much.
"Yes," Reilly says when asked if he wants Bones to get a season eight. "We are introducing The Finder, a spinoff, and I can see those shows being compatible and feeding off of each other well. We've been pretty darn happy with [Bones'] performance on Thursday night. As CSI was fading that's a really valuable show to us …It's a fan favorite and I like those people and we have nothing coming down that replaces it." Reilly added after the panel that Bones will only have 13 episodes this year unless Emily Deschanel feels she can do more.
As for House continuing beyond this season, "Hugh [Laurie] is mulling it and the producers are. This is the original team that has been there from the get-go, which has kept the quality so strong. They want to go out strong, so we're gonna revisit it in the fall and decide if this will be the last year. Universal [the studio] may decide if they want to take the show somewhere else. My sense is that this is a show that wants to go out strong and not limp along."
What about a House spinoff? "There's no plans right now," Reilly told us after the panel. "There's only been abstract discussions. I don't really see that happening."