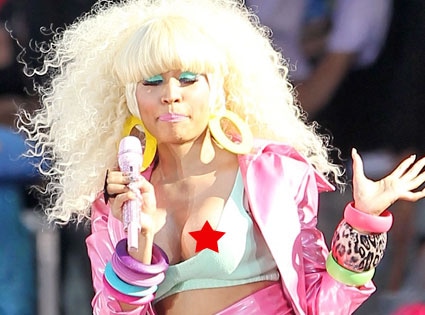 Pena/Hall/INFphoto.com
Nicki had some trouble keeping her Minaj in check today.
The high-powered rapper made the mistake of performing in a low-powered bra on Good Morning America, which, despiting airing on a five-second delay, failed to bleep her boob in time to keep if off the air.
We're betting this wasn't what she had in mind when she wrote Pink Friday.
While the 28-year-old Minaj initially looked a bit flustered, she managed to pull her shirt back up and continue on through a set that included "Moment 4 Life" and "Super Bass."
And she happily tweeted about the show afterward: "I love u  Team Minaj! Words could never do this love justice! Thank u@Gma!!!! Honored."
ABC, meanwhile, quickly issued a mea culpa for its slow-triggered censors.
"Although we had a five-second delay in place for the Nicki Minaj concert on GMA, the live East Coast feed of the concert regrettably included certain fleeting images of the performer that were taken out of later feeds of the broadcast in other time zones. We are sorry that this occurred," a rep for the morning show tells E! News.
While it's doubtful to turn into the next Boobgate, the incident has sparked the ire of the conservative media watchdog, the Parents Television Council.
"For the umpteenth time in recent memory we have a morning news broadcast airing explicit content when millions of families are starting their day and are looking to get caught up on the news. With so many such instances, the network apologies are beyond hollow," PTC President Tim Winter tells E! "Today we call upon the executive producers of the Today Show, Good Morning America and the CBS Morning News programs to meet together and establish best practices to prevent these sucker-punch moments.  If the networks are sincere about their apologies, they will work together to implement meaningful solutions."
Then again, Minaj's malfunction probably wasn't the most inappropriate content on this morning—perhaps the PTC folks missed that Roseanne for president segement on Today. Now that's truley scary.