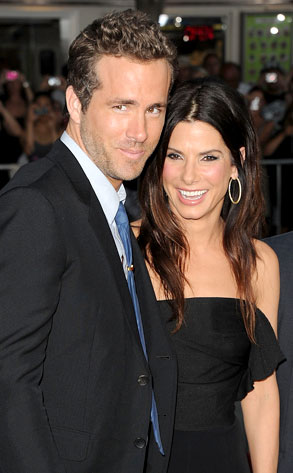 Jason Merritt/Getty Images
Normally, when a celebrity is surprised on the red carpet, it involves water guns, prank questions and frenzied publicists. Not this time!
Sandra Bullock gave her longtime pal Ryan Reynolds a pleasant surprise in Hollywood last night, when she turned up as a late addition to the red carpet premiere of his new flick The Change-Up.
Bullock decked herself out in a strapless black Lanvin jumpsuit and turned up to show her support for Reynolds—and her show of affection was quickly reciprocated.
When Ryan spotted Sandy arriving, he broke free from his costar scrum and greeted his Oscar-winning bestie with a friendly hug, kiss on the cheek and a nice round of posing between the equally pretty A-listers.
Unsurprisingly, Bullock skipped the press line and headed straight into the theater following the reunion. Man, these two have really got it together. Now if only they could get together, that'd be a real Hollywood ending.