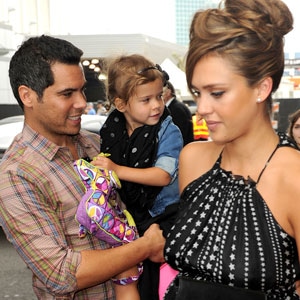 Kevin Winter/Getty Images
Jessica Alba's daughter Honor isn't a talent agent, but the 3 year old may want to ask her mom for 10 percent.
Turns out it was Honor who helped Alba land her latest gig in Spy Kids: All the Time in the World in 4D...
It all started when Alba and Spy Kids director Robert Rodriquez were making Machete. 
"When I became a mother, I talked to him about getting back to work and how does he do it, how does he juggle spending time with his family [Rodriguez has five children] but also focus on his career because he's done it so well," Alba tells me.
"So when I was shooting Machete, him seeing me trying to change my kid's diaper and take conference calls and I'm on the set trying to learn lines and trying to do a million things at once kind of inspired him to write the character that I play—a woman who's trying to do a millions things at once."
Alba, who stars as a suburban mom juggling motherhood and her secret life as a spy in the fourth installment of Rodriquez's wildly successful family-friendly franchise (opening Aug. 19), is pregnant with her and hubby Cash Warren's second baby.
"I really can't imagine having more than this—more than what's happening right now," Alba said while rubbing her belly. "Kids are a lot of work and at the end of a pregnancy, it's sort of like you can't really imagine having more. But we'll see."
And we'll also have to see if Alba reunites with Rodriguez on a Sin City sequel. "We talked about while we were shooting the first one and then we talked about it again while we were shooting Spy Kids and Machete," she said. "But, why wouldn't I? It was left so open-ended. I loved doing that movie."