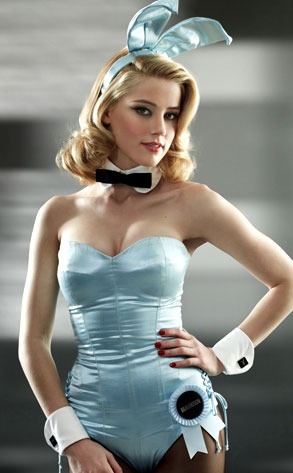 John Russo/NBC
Too racy! Setting the women's movement back 50 years! Too much sexual content! These aren't exactly the phrases the cast and creators of a new show want to hear before said series even premieres on television.
Yet that is exactly the kind of heat NBC's The Playboy Club is currently facing. The Parents Television Council wrote a letter to NBC, claiming they were exposing masses of American to porn with this show. An NBC affiliate in Salt Lake City banned the show from its fall lineup.
Through all this controversy, the stars have remained pretty mum on everything revolving around the show. Until we talked to them, of course…
The Playboy Club, in case you can't tell by the title, follows the life of Playboy Bunnies and the clients of the famed Playboy Chicago hot spot in the '60s. Starring Eddie Cibrian, Amber Heard, and David Krumholtz, it's kind of Mad Men-esque, but with song-and-dance numbers as well!
But about that whole "your show is evil and will ruin America" thing. When it comes to women's empowerment, Heard has a few words for naysayers of the show. "The groups that create the controversy have not seen our show. They have no idea what the show is about," she insists. "They are responding to the Playboy stigma, the word. And you don't watch a show for a word. You watch it for the characters, and that's what this show has. Our generation, it takes us by surprise when the Steinems of the world criticize us, I think because we are part of a generation of women who don't have to choose between combat boots and an apron. We can do it in heels."
She continues: "I would love to hear the criticism of the show after it comes out. I'm not interested in hearing criticism on the show from people who haven't seen the show. By today's standards my Bunny suit is far less risqué than 99 percent of the photos you will see in any given magazine right now on any given billboard on any given show. The costume I wear is far less revealing than a bathing suit, and a modern one-piece bathing suit at that."
If anything, Heard believes this series will show how these women were trailblazers. "I met a lot of ex-Bunnies. I met a lot of women that lived it breathed it. Not only were women patrons of the club, which is something that was often overlooked, but they were also in charge of heir own destinies," she says. "The [Playboy Bunnies] wanted their own fortune and they went out into the work force doing what they wanted to do. I could not be more empowered by that example, and I think denying women their sexuality is just as chauvinistic, if not worse."
Watch the preview for The Playboy Club below, and then let us know what side you stand on regarding all the hate the show has been getting.