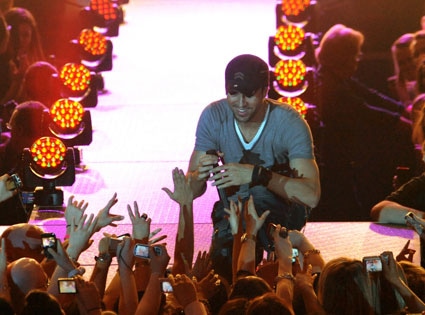 Courtesy: Borgata
What better place to talk about what's going on down below than Down Under?
Which may be why saucy singer Enrique Iglesias decided that a recent gig in Australia was the perfect place to chitchat about losing his virginity and whether or not he's packing an impressive package. Typical concert talk, right?
So first things first, what exactly did Enrique have to say about his phallic friend?
Well, let's just say "Little Enrique" may be a more accurate nickname for his nether regions than you'd think.
Enrique pulled a few brave male fans on stage at his Melbourne show to talk about their sex lives. And when one of those lucky lads told Enrique that his handsome mug must make him quite impressive in the bedroom, Enrique had a surprising announcement.
"What does Spanish good looks have to do with the size of your penis?" Enrique asked. "They're completely different things. Maybe I have the Spanish looks but I have the smallest penis in the world. I'm serious."
And thus begins Enrique's lengthy Penis Monologues. And what he lacks in inches, he makes up for in blabbing about what goes on behind closed doors.
"I grew up with a lot of my friends and all of them lost their virginity with hookers," Enrique spilled about his first time. "Not that there's anything wrong with that! They had to pay for it. I wanted to wait for the right girl so I waited until I was 25."
Another shocking fact, perhaps... If it were true. Because just a few minutes later, Enrique fesses up about the actual age he was when he lost his virginity.
"I was nervous as s--t the first time," He reveals before admitting, "Usually the first time is not the best. Mine was in my mother's house. Let me be honest, I was actually 17 and a half… I was really nervous. It lasted ten seconds."
How very… humble? But it seems that Enrique never got the memo that a little lying is OK when it comes to your performance between the sheets, because when one of his new onstage buddies said his first time lasted ten minutes, Enrique replied:
"S--t, I don't even last eight minutes now."
And here the Aussies thought they'd just get to hear the hunk sing "Hero" live. Anna Kournikova must be so proud!