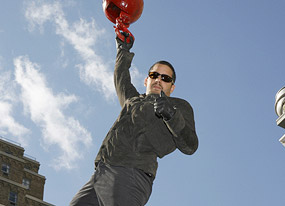 Mark Von Holden/WireImage.com
David Blaine may have seen The Dark Knight one too many times.
The so-called street magician will be taking his latest publicity—er, death-defying—stunt to the skies, making like a real-life batman and suspending himself upside down on a high wire in Central Park for three days and nights.
The latest challenge will begin the morning of Sept. 22 and culminate, as all Blaine stunts do, with a live two-hour prime-time special on ABC Sept. 24, this one going by the not at all sensationalistic title of David Blaine: Dive of Death.
The new endurance test will take place above the park's iconic Wollman Rink in full public view and will see Blaine go without food for the roughly 60-hour period, though not liquids, provided he's able to pull himself upright to imbibe the fluids.
During the nearly three-day stunt, all while maintaining his upside-down stance, Blaine will also walk on the underside of a wire without a safety net, with details on his dismounting procedure being kept under wraps until the TV special.
Here's hoping it involves a large pair of pruning shears.