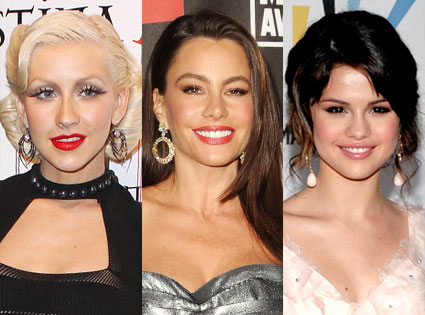 AP Photo/Dan Steinberg; Donna Ward/Getty Images; Steve Granitz/WireImage.com
They're back!
After their temporary shelving late last year, the Latino-honoring entertainment awards are back, slightly retooled and better than ever for another go this year, with nominees for the 2011 NCLR ALMA Awards announced bright and early this morning.
Back as always to host the do is Eva Longoria, who'll be joined this year by George Lopez. And—perhaps in an attempt to make it up to fans who missed out last year—this time, the public is king. To say nothing of the Hollywood royalty that made the nomination cut…
Leading the spicy pack this year are Christina Aguilera and Selena Gomez, each of whom scored three nods for their triple-threat work on the big, small and musical screens, getting pitted against each other for Favorite Female Music Artist and Favorite Movie Actress—Comedy/Musical, for Burlesque and Monte Carlo, respectively.
Up against them in the former category is Jennifer Lopez, Naya Rivera and Shakira; in the latter category, they face off against The Other Guys' Eva Mendes and Bad Teacher's Cameron Diaz.
Making the cut for Favorite Movie Actress—Drama/Adventure is Machete's Jessica Alba, Pirates of the Caribbean: On Stranger Tides' Penelope Cruz, Unstoppable's Rosario Dawson, Battle: Los Angeles' Michelle Rodriguez and Takers' Zoë Saldana.
As for the small screen nods, it's a battle of the Lopi. In addition to Aguilera, honored for her Voice work, and dog whisperer extraordinaire Cesar Millan, nominees for the Favorite TV Reality, Variety or Comedy Personality or Act include George Lopez, Jennifer Lopez and Mario Lopez.
As for other hot battles, the Favorite TV Actress—Leading Role in a Comedy category sees Disney besties Gomez and Demi Lovato face off, alongside Modern Family's resident hot tamale Sofia Vergara, Glee's Naya Rivera and Victorious' Victoria Justice.
Other big name nominees include Grey's Anatomy's Sara Ramirez, Parks and Recreation's Aubrey Plaza, The Office's Oscar Nuñez, Antonio Banderas, Enrique Iglesias, Taio Cruz, Bruno Mars, Ricky Martin and Pitbull.
In any case, there's more changes in the works: as of now, the awards will officially be playing favorites. Literally. Starting this year, rather than value one performance over another, the organizers have finally given in to the popularity contest that these things are and decided to name all categories "Favorite" instead of "Best." It seems particularly appropriate, given that this year fan votes will help determine the winners of the annual show (incidentally, preferences can be logged through Sept. 5).
The winners will be revealed in an hourlong special airing on NBC Sept. 16.
Here's the complete list of nominees:
Favorite Movie Actor
Antonio Banderas, You Will Meet A Tall Dark Stranger
Demián Bichir, A Better Life
Bobby Cannavale, Win Win
Michael Peña, Battle: Los Angeles
Danny Trejo, Machete
Favorite Movie Actress – Drama/Adventure
Jessica Alba, Machete
Penélope Cruz, Pirates of the Caribbean: On Stranger Tides
Rosario Dawson, Unstoppable
Michelle Rodriguez, Battle: Los Angeles
Zoë Saldana, Takers
Favorite Movie Actress – Comedy/Musical
Christina Aguilera, Burlesque
Eva Mendes, The Other Guys
Alexa Vega, From Prada to Nada
Cameron Diaz, Bad Teacher
Selena Gomez, Monte Carlo
Favorite TV Series
CSI: Miami
Desperate Housewives
Modern Family
Wizards of Waverly Place
Favorite TV Reality, Variety, or Comedy Personality or Act
Christina Aguilera, The Voice
George Lopez, Lopez Tonight
Jennifer Lopez, American Idol
Mario Lopez, Mario Lopez: Saved By the Baby
Cesar Millan, Dog Whisperer With Cesar Millan
Favorite TV Actor – Leading Role
Ricardo Chavira, Desperate Housewives
Ian Gomez, Cougar Town
Joshua Gomez, Chuck
James Roday, Psych
Adam Rodriguez, CSI: Miami
Favorite TV Actor – Supporting Role
Oscar Nuñez, The Office
Rico Rodriguez, Modern Family
Michael Trevino, The Vampire Diaries
Tristan Wilds, 90210
David Zayas, Dexter
Favorite TV Actress – Leading Role in a Drama
Cote de Pablo, NCIS
Eva LaRue, CSI: Miami
Francia Raisa, The Secret Life of the American Teenager
Sara Ramirez, Grey's Anatomy
Sara Shahi, Fairly Legal
Favorite TV Actress – Leading Role in a Comedy
Selena Gomez, Wizards of Waverly Place
Victoria Justice, Victorious
Demi Lovato, Sonny With a Chance
Naya Rivera, Glee
Sofía Vergara, Modern Family
Favorite TV Actress – Supporting Role
Maria Canals-Barrera, Wizards of Waverly Place
Constance Marie, Switched At Birth
Aubrey Plaza, Parks and Recreation
Sarah Ramos, Parenthood
Lauren Vélez, Dexter
Favorite Male Music Artist
Taio Cruz
Enrique Iglesias
Bruno Mars
Ricky Martin
Pitbull
Favorite Female Music Artist
Christina Aguilera
Selena Gomez
Jennifer Lopez
Naya Rivera
Shakira