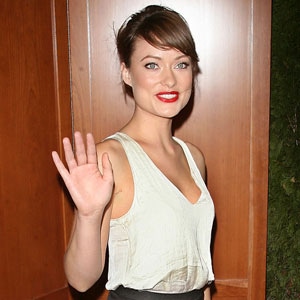 Jim Spellman/WireImage
Olivia Wilde as a porn star?
It's certainly a possibility.
And not just any porn star. We're talking the late Linda Lovelace, who helped bring porn to the mainstream with the hit 1970s X-rated flick Deep Throat.
Wilde exclusively tells me...
She is considering starring in Lovelace, a biopic form Oscar-winning codirectors Rob Epstein and Jeffrey Friedman. Recent reports wrongly claimed she was already signed on for the racy role. In April, it was reported that James Franco was being wooed by his Howl collaborators Epstein and Friedman for the project, too.
"It would be a tremendous honor," Wilde said last night at Nylon magazine's denim issue party at the Mondrian's Sky Bar in West Hollywood. "It's such a cool role. She was a fascinating woman—with where she came from to Deep Throat to then working with Gloria Steinem and Nora Ephron. It's really fascinating." (She's obviously done her research.)
This is separate from another Lovelace movie with Malin Akerman, who replaced Lindsay Lohan in the starring role.
"I'm being very careful about my next project since I'm now in a position where I can be really picky—thank God, finally," Wilde said.
Meanwhile, Wilde continues her humanitarian work with the launch of Operation Happiness, a nonprofit encouraging young people to help the less fortunate. "It's to engage young people to dedicate part of their lives to giving," she explained. "In a generation chock full of anti-depressants, we really believe that the path to happiness for some of them may not be through medication but by turning their energy outward and giving to those who need more than they do."
The group is set to release a line of "products for a purpose," Wilde said. Proceeds from a new Alternative Apparel backpack will benefit The Academy for Peace and Justice, a free secondary school in Port-au-Prince, Haiti.