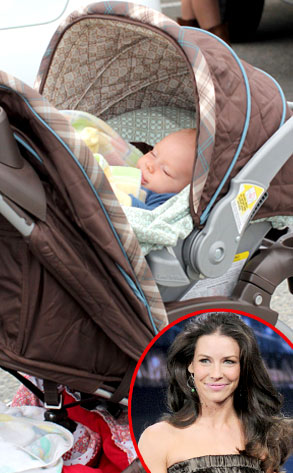 Flynetonline.com; Albert Michael/StarTraksPhoto.com
We don't know his name, but we think he's perfect anyway!
New mom Evangeline Lilly was spotted with boyfriend Norman Kali and their 2-month-old son Tuesday after touching down at Vancouver International Airport.
Lilly became a first-time mom in late May after never formally announcing her pregnancy—or the birth for that matter, but it's been kinda hard to miss the fruits of her labor.
Maybe having to keep all those Lost secrets for years rubbed off on Lilly, who has not yet revealed her baby's name. (And things probably won't be any different now that she's got all that Hobbit lore to keep straight.)
But that sure hasn't made the little one any less aw-shucks adorable, has it?