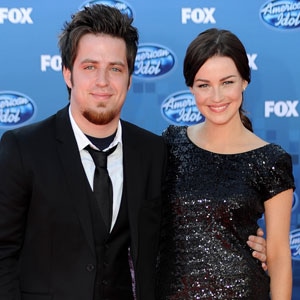 Frazer Harrison/Getty Images
It looks like Lee DeWyze's life is on a constant high.
After beating out other hopeful singers last year on American Idol, E! News confirms that the 25-year-old continues to make big moves as he proposes to his model-actress girlfriend of eight months, Jonna Walsh.
So how'd he pop the question?

Picture this: You're on a private yacht under fireworks at Walt Disney World in Orlando, and—bam!—a marriage proposal.
It was kinda like that.
"Jonna is a Disney freak," DeWyze tells People. "They were playing love songs on the boat and I got down on my knee and asked her. I had a speech prepared but it all went out the window so I just asked her. She started crying and I said, 'Is that a yes?'"
The couple met last October while shooting a video for his single "Sweet Serendipity."  
"We were casting and I saw her and said, 'Let's go with her.' I thought she was cute. We hung out and we went to a Lakers game on our first date. She's a Lakers fan and I'm a Chicago Bulls fan, and we just clicked out of the gate." 
They say opposites attract, but isn't eight months too soon? "When you know, you know," he says. "We both feel that way. We don't need to be together 20 years before we figure it out."
The wedding is set for fall 2012.